Tractor trailer gets stuck under bridge in Holley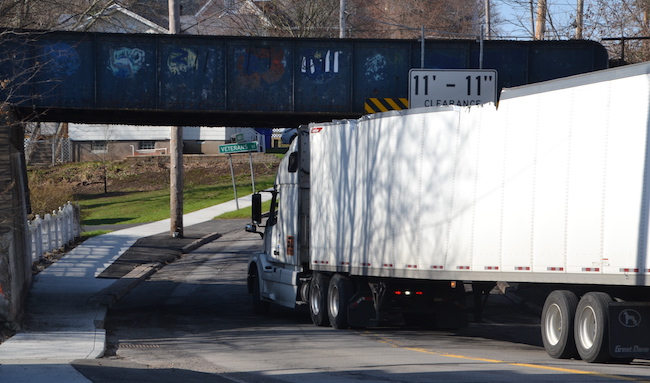 Photos by Tom Rivers
HOLLEY – A tractor trailer from Georgia got stuck under the railroad underpass/bridge this morning. Holley Police and firefighters from the Murray Joint Fire District have been on scene since just after 9 a.m. The Village Department of Public Works also is at the scene, helping to clean up debris in the road.
Holley police and firefighters say a truck gets pinned under the bridge about every six months.
A tow truck was called to help pull the truck and trailer out from under the bridge on Route 237. The clearance is 11 feet, 11 inches.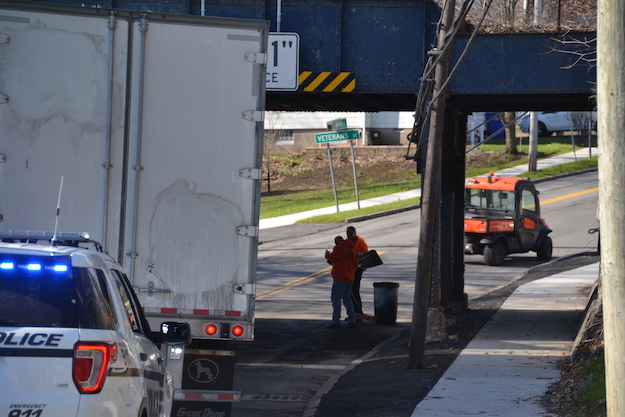 The stuck trucks are a frequent occurrence in Holley where there are signs posted that say, "11′-11"  CLEARANCE" just before both sides of the bridge, and also on the bridge.
Truckers over the years have said their GPS systems route them through Holley on Route 237. The truckers don't have a straight-shot view of the bridge in either direction. Often they are upon the bridge before it's too late to slow down and avoid it.
Village officials in the past have asked nearby manufacturing plants, cold storages and food processors to tell truckers not to use the route by the bridge.