Tractor parade will be back in Barre on Dec. 14
Betterment Committee also doing hunter's breakfast on Saturday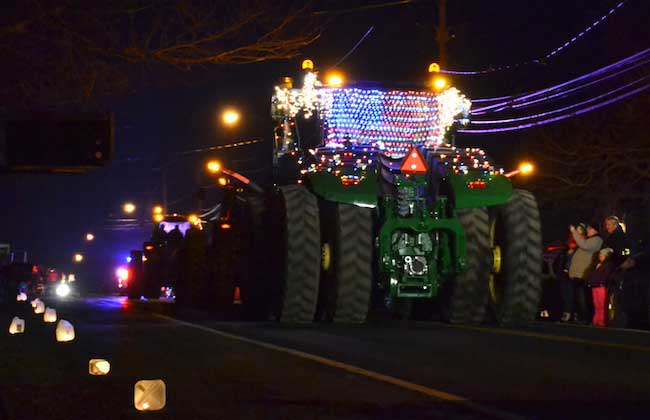 Photo by Tom Rivers
BARRE – The Barre Betterment Committee  hosted its first lighted tractor parade down Route 98 last Dec. 15.
The photo shows a tractor with a large American flag in back. Lamb Farms of Oakfield brought this tractor. There were about 10 tractors in the debut parade.
The parade will be back on Dec. 14 at 5:30 p.m. It starts on East Barre Road. The ending spot is to be determined.
The Barre Betterment Committee also is putting on its first hunter's breakfast from 9 a.m. to noon on Saturday at the Town of Barre highway garage. Saturday is the opening day for regular hunting season with firearms.
The committee will be serving all-you-can-eat venison sausage and gravy, biscuits, pancakes, eggs, juice and coffee. The breakfast is open to the community and costs $10.
For more on the Betterment Committee, click here.