Top ticket-seller for 'Toast to Hospice' recognized by Supportive Care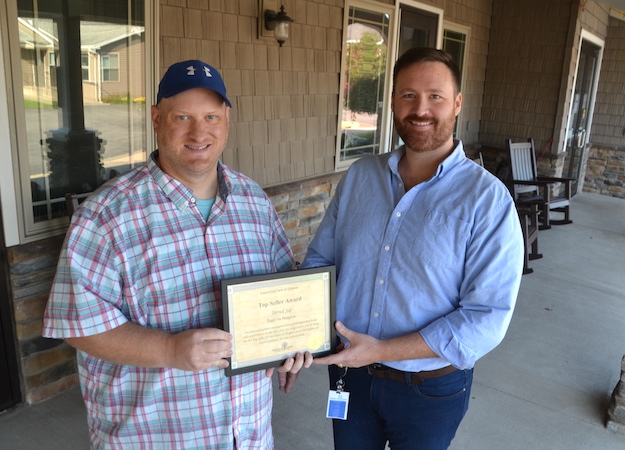 Photo by Tom Rivers
ALBION – Jarred Saj, left, accepts an award as the top ticket-seller for the "Toast to Hospice" event on Aug. 27. He is congratulated by Derek Reiner, Supportive Care of Orleans' director of marketing and development.
Saj sold 70 of the 220 tickets total for the event at $30 each. The event at Leonard Oakes Estate Winery raised $8,000 for Supportive Care.
Saj has consistently been the top ticket-seller for the event, and also a previous duck race that benefitted the organization that was known as Hospice of Orleans County.
"It's extremely instrumental to have someone like Jarred," Reiner said. "Without Jarred I don't think we could move the mission of the organization as long as quickly."
Saj has been a prolific ticket-seller for Supportive Care and Hospice the past decade. He said he believes in the organization's work, helping patients with a terminal illness and their families.
"It's in my heart," he said.
Saj, 42, also is a top ticket-seller for the annual turtle race in June that benefits the Albion Strawberry Festival. He said 315 of those tickets at $5 each or five for $20.
Saj said he reaches out to friends when he sells the tickets for the turtle race and for Hospice.
"They're people I know well," he said. "I explain the purpose of the organization. I know people and I know what they support."
Most people are agreeable to buying a ticket, but Saj said he tries not to be too persistent.
"I can accept when the answer is no," he said. "I'm not harassing people and beating down their door."
Reiner said Supportive Care is grateful that Saj uses his wide network of friends to benefit the organization.
"Jarred knows everybody," Reiner said. "He is one of our top volunteers. We love him very much."