Top 10 grads praised for excellence in high school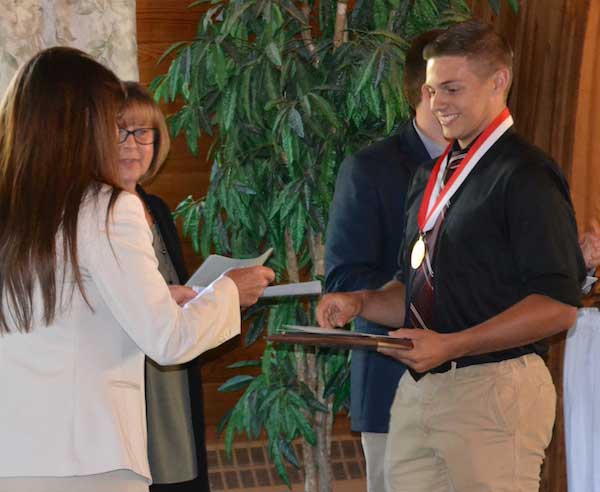 Photos by Tom Rivers
HOLLEY – Brandon Dillenbeck, a top 10 graduate for Holley, accepts congratulations and citations on Monday from Lynne Johnson (left), chairwoman of the Orleans County Legislature, and Eileen Banker, representing Assemblyman Steve Hawley.
Hickory Ridge Golf & Country Club hosted the 32nd annual Academic Excellence Awards Dinner on Monday, when the top 10 graduates from Holley, Kendall, Lyndonville and Medina were recognized. (Albion has its own honors convocation for students with cumulative GPAs of 90 or higher.)
Students were praised for their academic achievements, and urged to keep working hard in college and in their careers.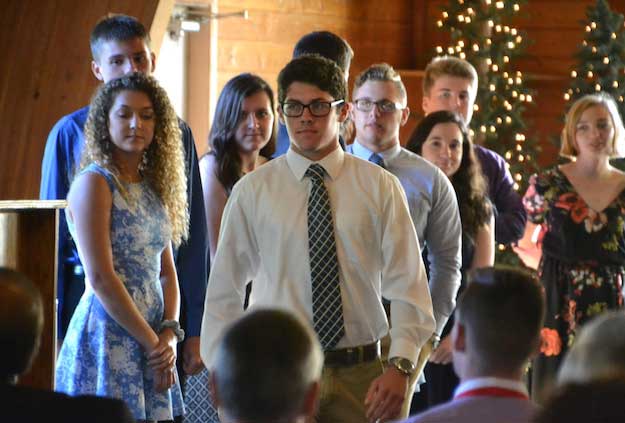 Jacob Bensley, a top 10 student at Medina, heads to the podium to be presented with a medallion and citations.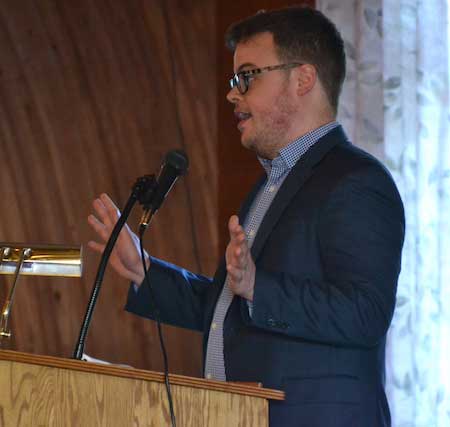 Tim Bow, a 2005 Lyndonville graduate, served as keynote speaker. He works as a lawyer in Chicago for Kirkland & Ellis LLP. He earned his Juris Doctor from the Miami School of Law in 2013, after attaining a bachelor's in political science and bachelor's of music in saxophone from Northwestern University in 2010.
Bow said the local students are fortunate to have been raised in a small town where the relationships are more authentic.
"Growing up in Orleans County is an asset," he said.
Their career path likely won't be a straight line. He advised the top 10 grads to keep moving forward in the face of setbacks and adversity.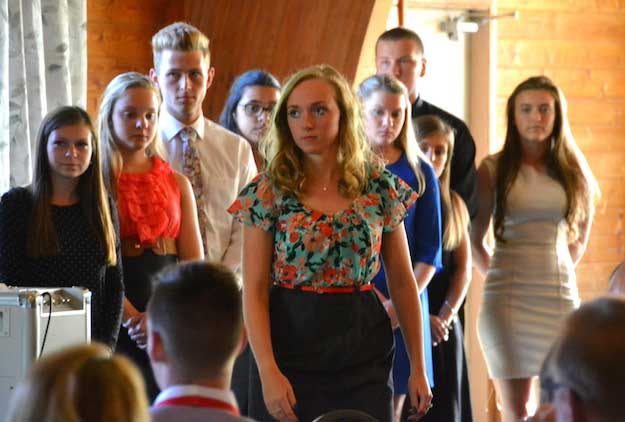 Kierstyn Christensen of Kendall earned a top 10 rank for the Class of 2018.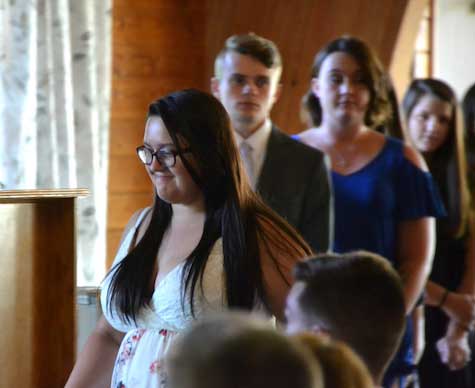 Mercedes Benedict is recognized as one of Lyndonville's top graduates.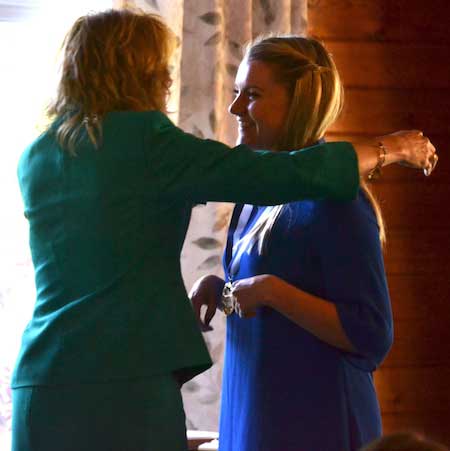 Raine Oakley of Kendall gets a hug and congratulations from Julie Christensen, the school district superintendent.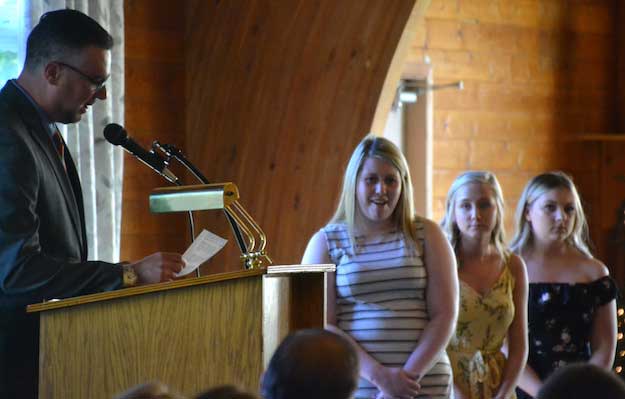 Dr. Aaron Slack, principal of Lyndonville High School, recognized the top 10 students. These three include from left: Cassie Maynard, Taylor Paniccia and Kennedy Smelski.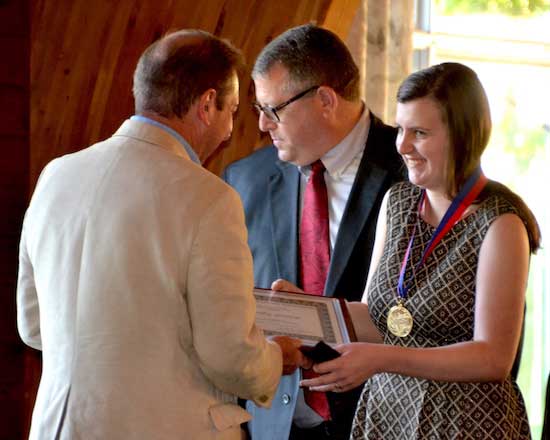 Shelby Green of Medina is congratulated by Mark Kruzynski (center), the district superintendent, and David Sevenski, president of the Board of Education.
The top 10 students include:
Holley: Hannah Bailey, Matthew DeSimone, Nina DiLella, Brandon Dillenbeck, Alexander Lane, Melody Purtell, Jessica Sedore, Dakota Thompson, Dalton Thurley and Hanna Waterman.
Kendall: Kierstyn Christensen, Michela Hanlon, Megan Hardenbrook, Caleb Henion, Sadie Howes, Archer Knapp, Raine Oakley, Adriana Passarell, Allen Tonas and Lyndsay Wright.
Lyndonville: Mercedes Benedict, Brody Brown, Heaven Flood, Paige Gardner, Mariah Grabowski, Skyler Lear, Miranda Lembcke, Cassie Maynard, Taylor Paniccia and Kennedy Smelski.
Medina: Jacob Bensley, Alyssa Beyer, Andrew Fuller, Shelby Green, Jack Hill, Ian Joseph, Brigid Keller, Madison Kenward, Tobias Kiebala and Hannah Sones.