Tinsel, new ice cream shop on Main Street, opens in Albion on Friday

Site next year will add The Lockstone, a wedding and events venue
Photos by Tom Rivers
ALBION – Tinsel, a new ice cream shop, will open to the community at 11 a.m. on Friday. This morning village and county officials joined the owners, John Hernandez and his wife Natasha Wasuck, for a ribbon-cutting.
From left include Deputy Mayor Gary Katsanis; Ephy, John and Natasha's daughter; Natasha Wasuck, Jobson, John and Natasha's son; John Hernandez; Village Trustee Stan Farone; Mayor Eileen Banker; County Legislator Ken DeRoller, a member of the Orleans Economic Development Agency board of directors; and Jon Costello, a business mentor through SCORE.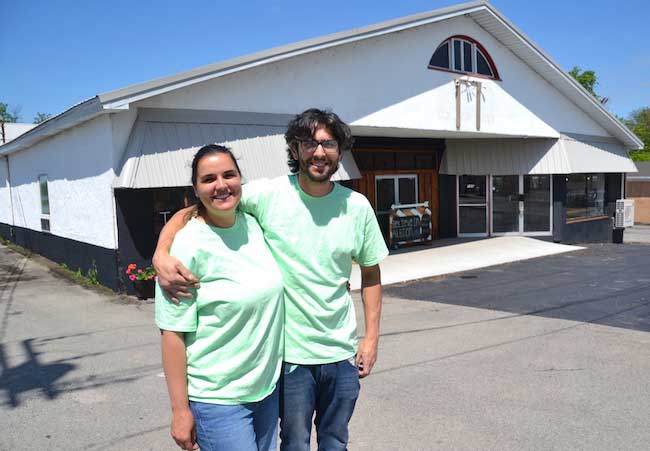 Wasuck and Hernandez bought 160 North Main St. about 15 months ago. They have big plans for the site, the long-time home of Burgio Tire. The ice cream shop is the first phase. They are working to establish The Lockstone, which will be an event and wedding venue. That venue should be ready next year. Another room is nearly ready for small parties and business meetings.
"There's a lot of potential," Hernandez said. "A lot of families walk by. There is a lot of traffic."
Wasuck and Hernandez noticed the "Believe" signs around Albion, which are placed by the Albion Betterment Committee. The couple is intrigued by Albion's history as a home to a school for Santa Claus from 1937 to 1966.
They named the ice cream shop Tinsel to connect with a Christmas theme, the tinsel on a Christmas tree.
Wasuck and Hernandez have been working on 160 North Main St. for more than a year. They took out a large garage door in the front to make a new front entrance and facade for building. The white stucco has been painted black in front, with a 3-foot-high black strip around the bottom of the building.
The front also includes board and batten siding and a new concrete ramp. They will be adding an outdoor patio with picnic tables later this summer.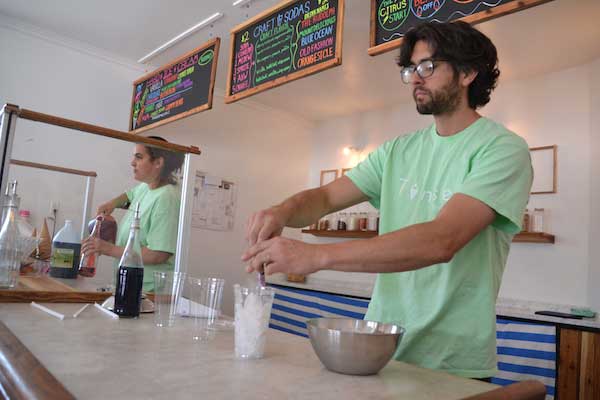 John Hernandez and Natasha Wasuck make craft sodas for the local officials to try today, before opening day on Friday.
"The craft sodas really separate us," Hernandez said.
They will also have soda spritzers, sandwiches, sundaes and ice cream nachos (served on waffles). One sundae, "the Tug," will be served in a plastic dish shaped like a boat.
Hernandez wants Tinsel to be a place Albion people bring their friends and family to help show off the community.
He has used reclaimed wood and materials for counters, signs, frames and other décor.
"We're trying to give it an old-time feel," he said. "The whole place is like my art shop."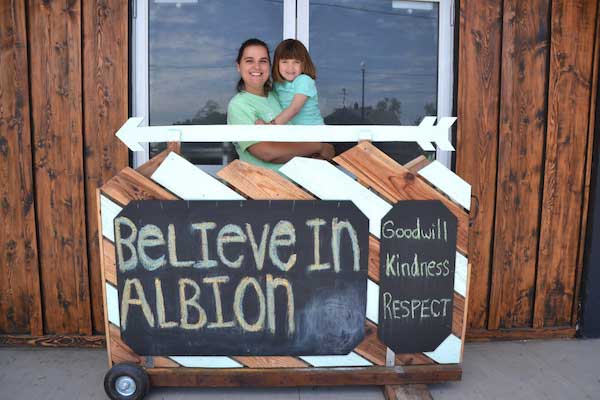 Wasuck is holding her daughter, Ephy, who is 3 ½. The Spencerport resident sells real estate and sold a few houses in Albion.
"I was in Albion and I thought the village was so cute," she said.
She saw the building by the canal, next to the Main Street lift bridge and saw its potential, especially as the events venue.
"This piece of property is amazing," she said.