Tim Hortons in Medina celebrates customer who won new Bronco
Ashlee Warren decides to give the vehicle to her dad, who is an 'amazing father and grandpa'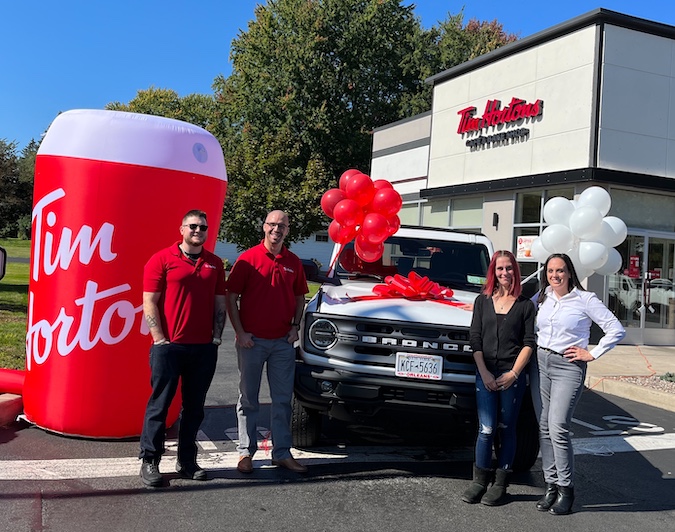 Provided photos
MEDINA – The Tim Hortons in Medina celebrated Ashlee Warren, a long-time customer who is the only confirmed winner in the United States for the "Roll Up The Rim To Win" promotion. Warren won a new Ford Bronco.
Pictured, from left, include Joey Filippelli (owner of Tim Hortons in Medina), Jared Karbowski (owner), Ashlee Warren (the winning customer) and Jen Karbowski (owner).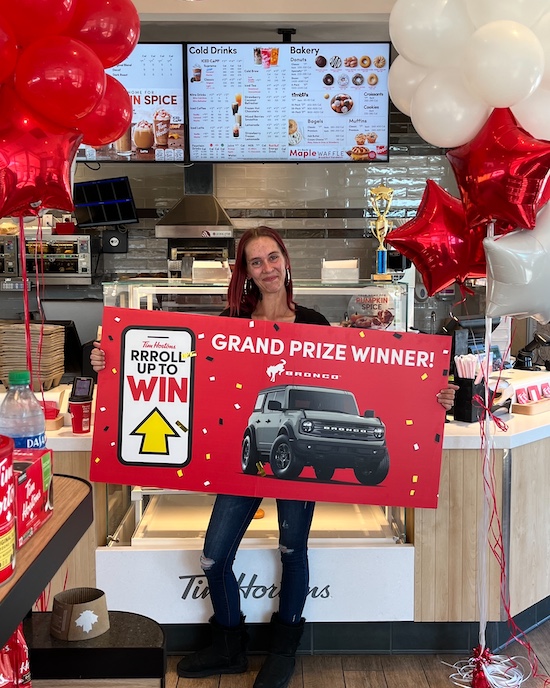 Ashlee Warren is all smiles as the grand prize winner during an event Oct. 5 at the Tim Hortons on Maple Ridge Road. She said she is very grateful to have won the vehicle.
The "Roll Up The Rim To Win" promotion was held from March 7 to April 3.
Warren said she has been a faithful customer of the Tim Hortons since it opened in Medina and plays the promotional games.
"I never thought I'd ever be a person to win a brand new vehicle," she said. "I happened to be going through emails and seen one that said Tim Hortons Roll Up The Rim promotion. Once I read it, I didn't actually believe it. I responded back "is this for real?" I got an email back stating yes and I needed to send in some paper work."
Warren took care of the paperwork and received a congratulatory email that she won the Bronco. She decided to give the vehicle to her father.
"He's my hero and deserves everything great," Warren said. "He's a very hard working man. He is everything a man should be. He's an absolutely amazing father and grandpa. No matter the job my daddy had always got it done. From showing me how to bat and throw a ball, to fixing a car, to fixing computers and showing me endless love from my very first breath. He deserves a brand new vehicle more than any one I know. He's overdue for something amazing like this to happen."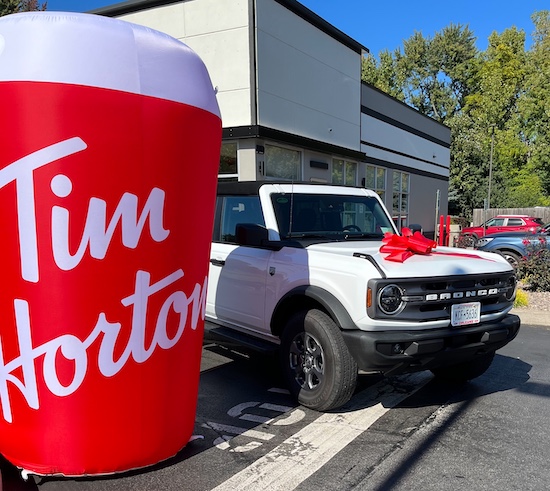 Ashlee Warren won a new Bronco through the promotion, which usually results in prizes for a free beverage or baked good.
There were only two potential winners out of 650 locations in the United States. So far the Medina customer is the only confirmed winner.
"She is a great customer," said Jennifer Karbowski, chief operating office and managing owner of the Medina site. "She comes through the drive-through and is a very frequent customer. That chance is very slim, and to happen in Medina is a beautiful deal. I'm so happy for her."