Those at shelters appreciate rescue from the storm
'We're all warm, we're all dry and we're all alive.'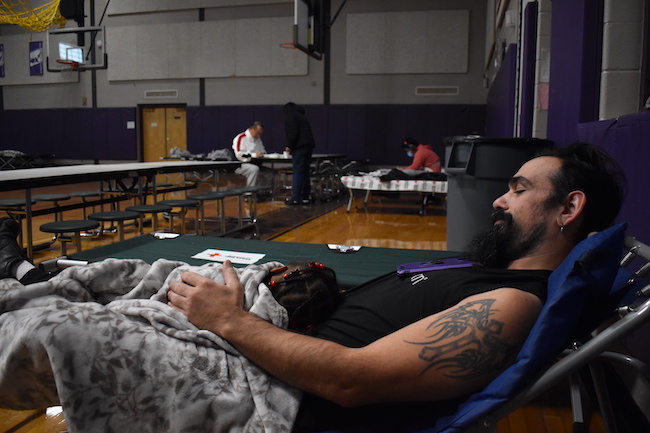 Photos by Tom Rivers
ALBION – Spencer Wright of Rochester holds a baby at about 11 a.m. today in the shelter set up at the Albion Elementary School.
Wright was holding the baby for a man he met yesterday. The father was going to check on his home in Barre.
Wright was one of 28 people who spent the night at the shelter set up at the school.
Wright was driving from Lockport to Rochester at about 3 a.m. Saturday when he went off the road on Route 31A in Barre. He said another car was coming in the opposite direction and driving in the middle of the road.
He was stranded in his car for 2 ½ hours until being picked up by Barre firefighters. He was one of about 20 to 25 people at the Barre firehall before they were moved to the school.
"Without them there would have been a lot of casualties," Wright said about the firefighters. "They were out driving all night, bringing people in."
Wright said he tried to stay calm in his car.
"I was just trying to figure out what to do," he said.
He is grateful for the firefighters and a safe place to ride out the storm.
"We're all warm, we're all dry and we're all alive," he said.
There were about 75 people who stayed at the shelters last night at the Albion and Medina schools, said Justin Niederhofer, the county's director of emergency management.
Most of the people in the shelters are from out of the area, with some from Poughkeepsie, Boston, New Jersey. Most of those people left this morning. The Medina shelter will soon be closed with the remaining two people there moved to Albion, where there are currently about 10 people.
Albert Purugganan, his wife and their 13-year-old son are trying to get from New Jersey to Toronto to see family for the holidays. The trip was going fine on the Thruway. They were then directed off the Thruway near Rochester and were on Route 31A in Barre and Albion about 6 p.m. on Saturday when the visibility and road conditions noticeably became very difficult.
They went off road and were soon assisted by a deputy from the Orleans County Sheriff's Office.
They spent the night on three cots at the Albion school.
"The people here are very helpful," Purugganan said.
The family is still determined to get to Toronto. They checked their car today, retrieving medications and are hopeful they can get back on the road soon.
They are thankful for the pizza at the shelter last night, and the coffee and other supplies at the temporary shelter.