Third missing kayaker found deceased by Coast Guard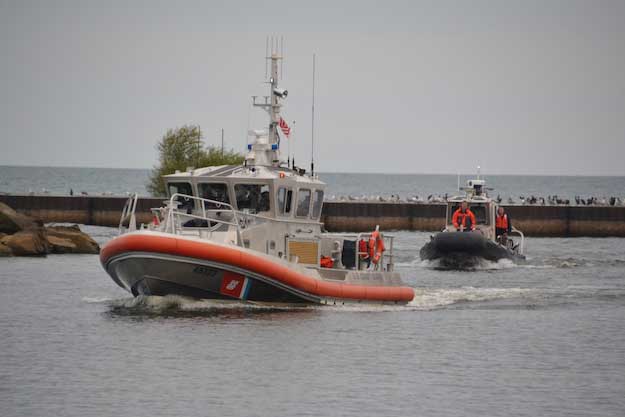 Photos by Tom Rivers
POINT BREEZE – The U.S. Coast Guard enters the Oak Orchard Harbor after recovering the body of a missing kayaker in Lake Ontario this morning, just before 9 a.m.
The marine patrol for the Orleans County Sheriff's Office is following the Coast Guard.
The kayaker was reported missing at 6:30 p.m. on Monday. Two other kayakers were also reported missing but they were found safe this morning at about 6 after swimming ashore and walking to Point Breeze.
The three kayakers, ages 18 to 21, are from Pennsylvania.
The three went out into the lake at about noon on Monday at the boat launch at Golden Hill State Park in Barker. The lake was choppy with 3 to 4 foot waves due to windy conditions. There was also a severe thunderstorm last night.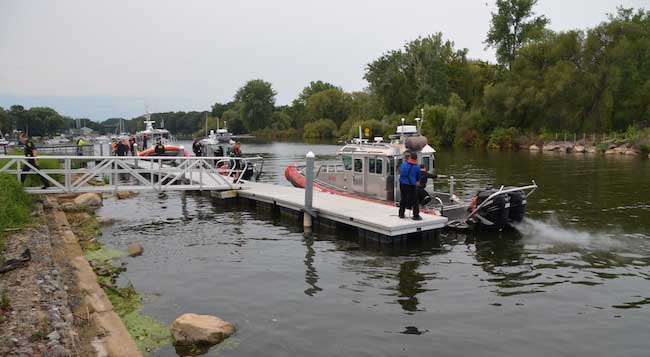 The rescue boats tie up at a dock at Point Breeze. The Coast Guard is at left followed by the Orleans County Sheriff's Marine Patrol and the Olcott Fire Department.