The line started early at Foodlink distribution this morning in Albion
300 boxes of food were gone quickly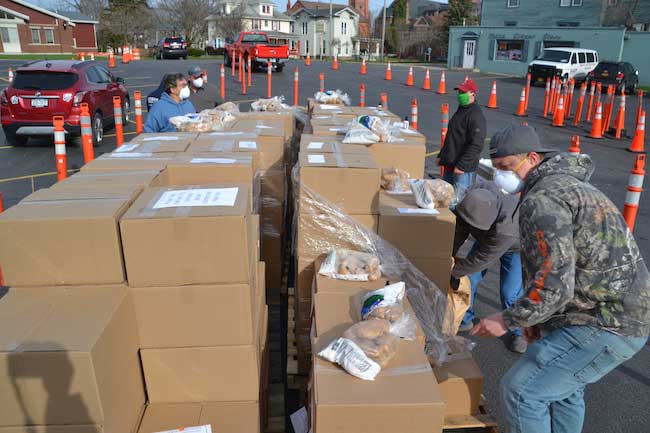 Photos by Tom Rivers
ALBION – Community Action of Orleans & Genesee employees help serve boxes of food and bags of potatoes this morning in Albion, including Ricky Standish, lower right.
Community Action and the Office for Aging in Orleans County teamed with Foodlink to serve 300 boxes of food that were each 25 pounds.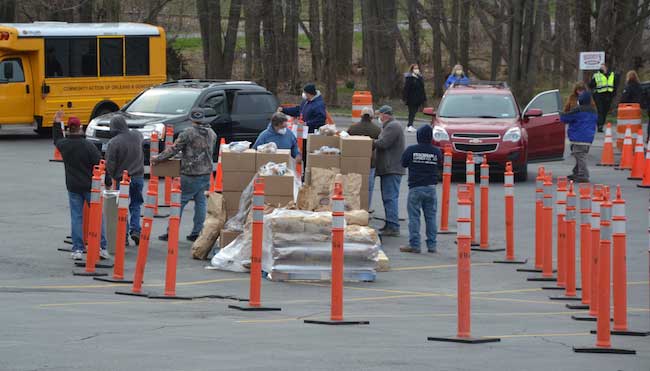 They were set up in the parking lot on South Main Street in front of Community Action's Main Street Store. This photo was taken about 10 a.m., when the line was noticeably much shorter.
The event was advertised to be from 9:30 to 11:30 a.m. But people started showing up after 6 a.m. with lines forming by 7:30 a.m.
Foodlink arrived with a truck by 8:30, and the food distribution started soon after that. By 10:45, the boxes were all gone.
People who arrived when the food was gone were offered a bag of potatoes and were also encouraged to try the Community Action food pantries in Albion and Holley.
Albion Police Chief Roland Nenni helped set up the plan for the event. Vehicles would enter the parking lot from Chamberlain Street and were then split into two lines.
Annette Finch, community service director for Community Action, said she is working with Foodlink to have another distribution in the near future.
Finch estimated that 40 percent of the people who pulled up for a box of food were senior citizens. Many others were younger adults with families.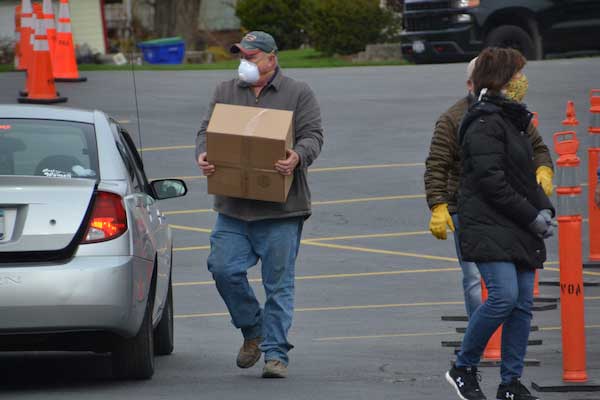 Jeff Atwell of Community Action carries a box to the trunk of a car. Drivers and passengers all had to stay in the vehicles with the windows closed. They pulled up with the trunks open. When the food was put in the trunk and closed, Atwell and other helpers tapped the trunk for people to drive away.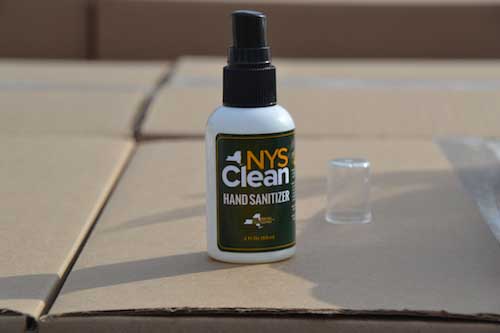 There were small bottles of hand sanitizer given to all the people helping move the boxes to trunks of vehicles. After each interaction, the volunteers or Community Action employees needed to sanitize their hands. The sanitizer was packaged by inmates at the Albion Correctional Facility.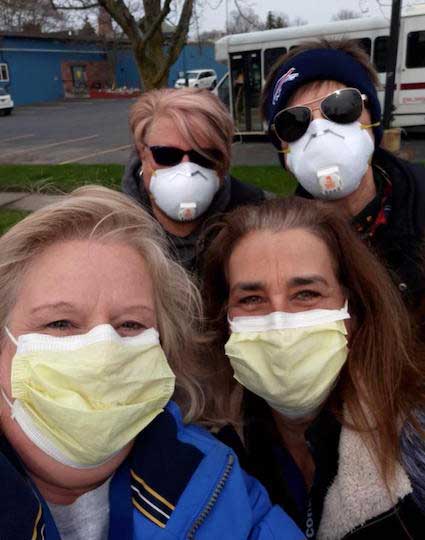 Provided photo. These Office for the Aging employees assisted with the food distribution this morning. They include, front row, from left: Leanne Donovan and Samantha Koons. Back row: Becky Karls and Susie Miller.