Temperatures on the upswing, but freezing rain could pose a hazard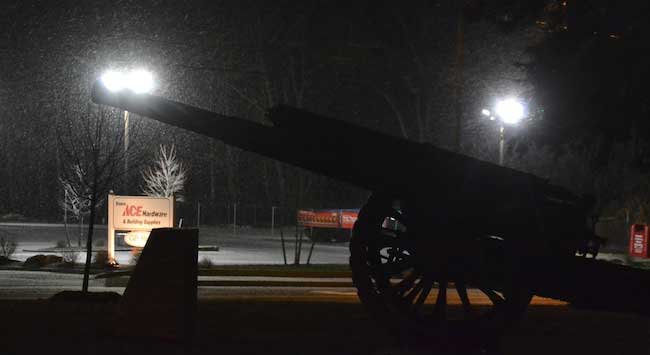 Photo by Tom Rivers
MEDINA – The cannon at State Street Park in Medina is pictured on Friday evening when it was snowing. The park is across East Center Street (Route 31) from the Ace Hardware.
The area will avoid a deep freeze the next week, but there will be some light snow and freezing rain on Monday night and into Tuesday, the National Weather Service in Buffalo said in issuing a hazardous weather outlook.
The forecast includes partly sunny with a high of 31 today, followed by a high near 31 on Sunday, and a high of 38 on Monday – Martin Luther King Jr. Day.
On Tuesday, the temperature will reach 38, followed by a high near 44 on Wednesday, 45 on Thursday and a high of 51 on Friday, according to the Weather Service.