Teddy Bears get patched up at hospital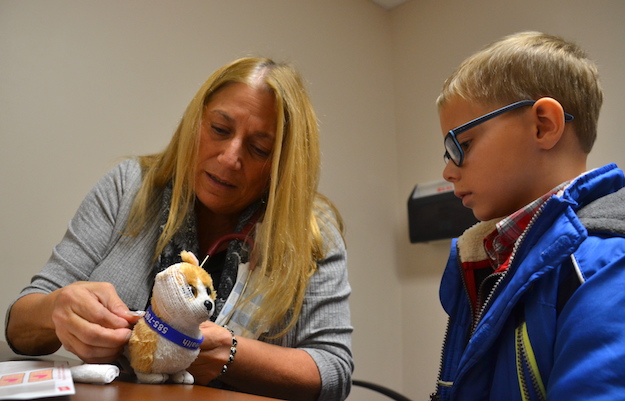 Photos by Tom Rivers
MEDINA – Otis, a toy dog owned by Garrison Foote, gets bandaged by registered nurse Mary Dunham at Medina Memorial Hospital this morning. The hospital welcomed kindergartners from Albion on Wednesday and this morning. They were all urged to bring in a stuffed animal that could be bandaged with pretend injuries.
The children and their toy animals also went in the X-Ray room.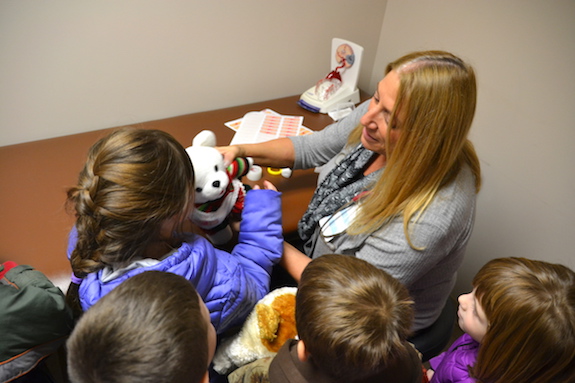 Mary Dunham gives a Teddy Bear some medical attention as part of today's Teddy Bear clinic. Medina Memorial brought back the clinic last year after it had stopped for a few years. The hospital hopes the Teddy Bear Clinic helps children to feel more comfortable if they ever need to go to the hospital.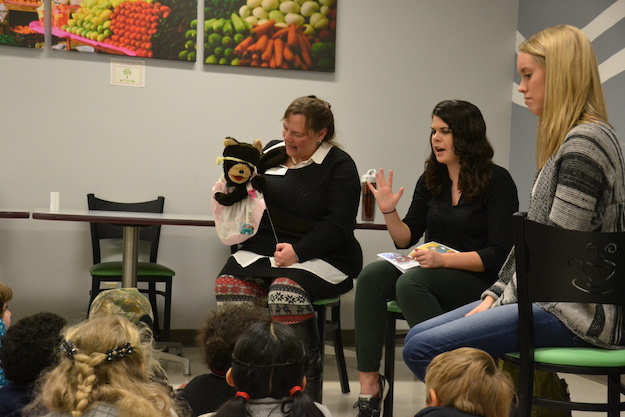 Sasi, the official "spokesbear" for the Orleans County Health Department, tells students about the importance of washing their hands with soap and water for about 20 seconds. Sasi's handler is Nola Goodrich-Kresse, public health educator for the Orleans County Health Department. Sasi has been the Health Department's ambassador for about 20 years.
Brenna Podesta (next to Goodrich-Kresse) is an intern with the Health Department. She read a story, "Leo the Little Lion learns how to get ahead of lead."