'Team Jimmer' event at Tim Hortons raises $8,500 for ALS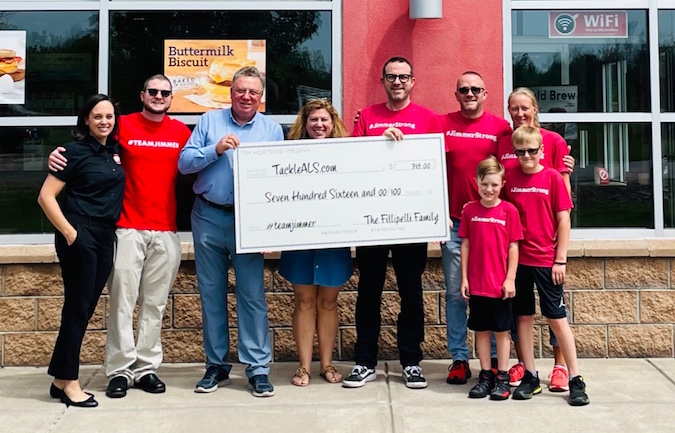 Provided photo
MEDINA – The Fillipelli family, which owns Tim Hortons in Medina, is shown with members of the Szatkowski family, who are raising money for ALS research and services. Medina native Jimmer Szatkowski in April was diagnosed with ALS.
Pictured from left include: Jennifer Fillippelli, Joey Fillipelli, Giuseppe Fillipelli, Betty Szatkowski (Jimmer's Wife), Jimmer Szatkowski, Andrew Szatkowski, Sara, Lukin, and Wyatt Szatkowski
The Szatkowski family sold 'Team Jimmer' bracelets at Tim Hortons on May 25. The Fillippelli family agreed to donate $1 for every Team Jimmer bracelet that was sold that day. The Fillippellis donated $716 toward the cause. Altogether, the fundraising effort totaled $8,545.50 on May 25.
"It was an awesome day," said Andrew Szatkowski. "Medina really showed up, and the Tim Hortons crew really shined! I really cannot thank the Fillipelli family enough, they have been incredibly generous, and we are blessed to call them friends."
Jimmer Szatkowski is Andrew's brother. Jimmer, 48, is a Medina native. He now lives in the Syracuse area and owns two Chick-fil-A restaurants, with sites in Cicero and Clay.
Amyotrophic lateral sclerosis, also known as Lou Gehrig's Disease, is a progressive neurodegenerative disease that affects nerve cells in the brain and the spinal cord.
"We have hope that there will be a cure; however ALS research is underfunded," the "Team Jimmer" cards stated that were included with the bracelets. "We need funds to make this Cure possible!"