'Team Jimmer' bracelets, to benefit ALS research, are popular at Tim Hortons in Medina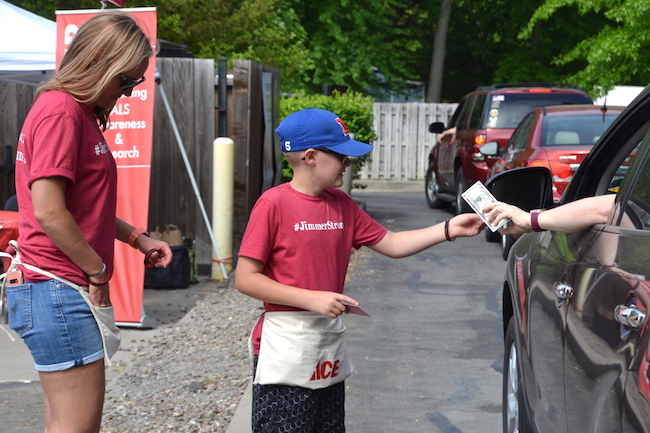 Photo by Tom Rivers
MEDINA – Lukin Szatkowski, 10, and his mother Sara are shown selling "Team Jimmer" bracelets today at the Tim Hortons in Medina. The bracelets are in honor of Jimmer Szatkowski, Lukin's uncle who was diagnosed last month with amyotrophic lateral sclerosis, also known as Lou Gehrig's Disease. ALS is a progressive neurodegenerative disease that affects nerve cells in the brain and the spinal cord.
Jimmer Szatkowski, 48, is a Medina native. He now lives in the Syracuse area and owns two Chick-fil-A restaurants, with sites in Cicero and Clay. His family is expected to deliver Chick-fil-A to the Tim Hortons employees today in appreciation for hosting the bracelet sale. Tim Hortons also is donating $1 for every $5 bracelet sold.
Lukin and Sara were joined today by Lukin's brother Wyatt, 7, and the boys' father, Andrew, who is Jimmer's brother and Sara's husband.
The Szatkowskis will be at Tim Hortons until about 5 p.m. today.
The bracelets and cards include a message that May is ALS Awareness Month.
"We have hope that there will be a cure; however ALS research is underfunded," the card states. "We need funds to make this Cure possible!"
The fundraiser will direct 100 percent of the funds to research, clinical trials and also clinical care at Healey Center for ALS at Massachusetts General Hospital.