Teal Pumpkins signify non-food treats for kids with allergies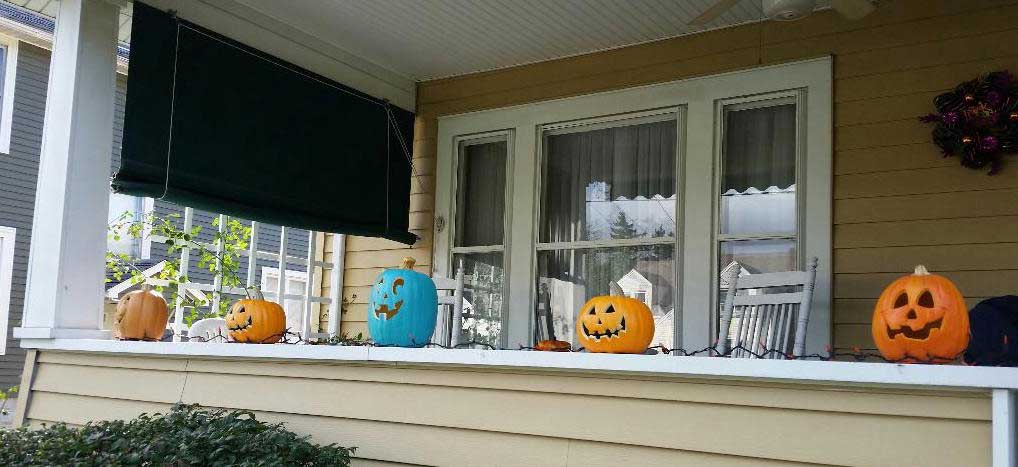 Photo courtesy of Georgia Thomas
MEDINA – Georgia Thomas of Medina has a row of pumpkins on her porch in medina, including a teal pumpkin to signify she has treats available for kids with allergies.
The Teal Pumpkin Project started in 2012 as a nationwide effort to encourage people to also give out non-food treats on Halloween, which is next Wednesday, Oct. 31.
Food Allergy Research & Education, a non-profit advocacy group, took up the cause and first promoted the non-food treats in 2014.
The group says there are many treat options for people to give to children with food allergies:
• Glow sticks, bracelets, or necklaces; pencils, pens, crayons or markers; bubbles;
• Halloween erasers or pencil toppers; Mini Slinkies; whistles, kazoos, or noisemakers;
• Bouncy balls; finger puppets or novelty toys; coins; spider rings; vampire fangs; mini notepads; playing cards; bookmarks; stickers and stencils.
Food Allergy Research & Education would like to have a home on every block with a teal pumpkin and offer non-food treats.
For more on the Teal Pumpkin Project, click here.