Takeform develops new signs, other products to help businesses during pandemic
Company quickly retools with new floor markers, protective shields, sanitizer/PPE stations and other products
MEDINA – Takeform, a company with 200 employees in Medina, has quickly developed an array of products to help businesses, especially healthcare organizations, during the Covid-19 pandemic.
Takeform has made numerous signs and floor decals about the 6-foot social distancing guidelines, and signs for Covid-19 testing.
The company has also developed protective shields for bank tellers and other employees in close contact with customers. Takeform also made sanitizer stations that can be mounted on walls and placed throughout buildings.
Takeform was able to design, engineer and manufacture these products in about two months. Normally it takes about six months or more to develop new products and make them available to their customers around the country.
Takeform works with 40 percent of the 100 largest healthcare systems in the country, said Michael Hungerford, a regional director for Takeform.
"Since we serve a lot of healthcare clients already, we're in a position to help them adjust and reconfigure their facilities to meet the challenges posed by COVID-19," Hungerford said.
"Over the span of about two weeks our engineers and designers developed a new line of products that do just that," he said. "The fact that they were able to develop the products and then roll it out nationwide in a little over two weeks in such challenging times is amazing because it usually takes 6-plus months to do something like this."
Takeform also has been busy working with colleges and businesses "who are all trying to figure out how to make their buildings safe for people to return to," Hungerford said.
The floor markers, protective shields, and sanitizer/PPE stations are part of the reopening strategy for colleges and businesses.
"Over the next few weeks and months, we'll introduce several more products that help these organizations open confidently and then stay open safely into the future," Hungerford said.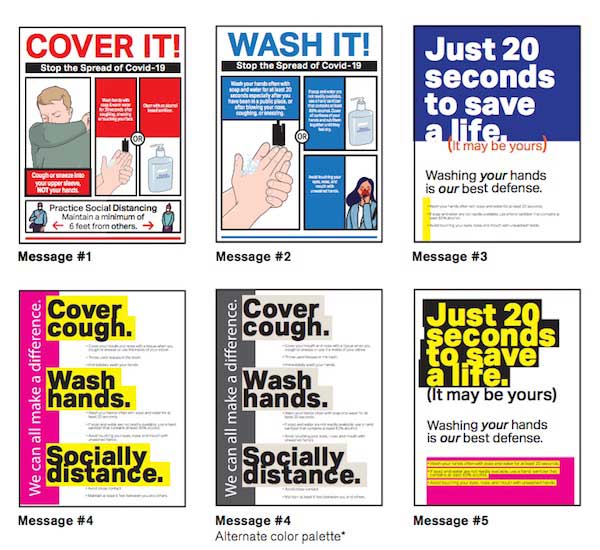 Covid-19 notices and notice holders offer a simple, yet effective means of communicating hygiene and safety messages.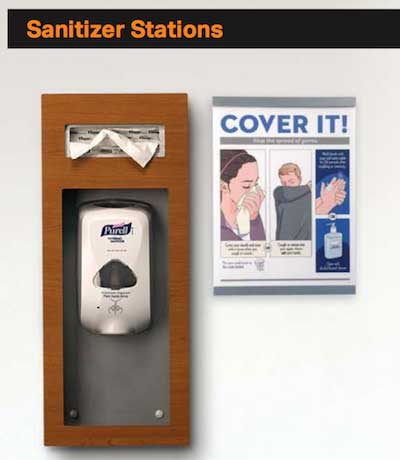 Hand sanitizer displays can be mounted on walls in five different finishes: Manitoba Maple, Wild Cherry, Silver Wings, Black Microdot and White Microdot. These displays can be mounted at critical points throughout facilities.

Takeform says, "At no time is communication more critical than during a crisis. Demands are more intense, emotions are high, and miscommunication can be dangerous. Have the right message in the right place, communicated professionally plays a valuable role in managing urgent situations."

Takeform also has large banners to inform people of testing sites and quarantine zones.

For more information on some of the products at Takeform, click here.