Swan freed from beer can has been accepted by its family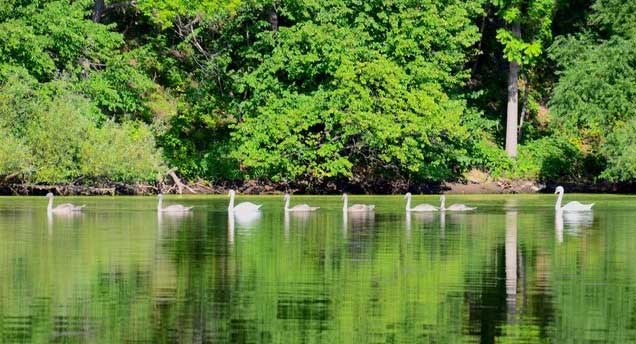 Photo courtesy of Pam Brown
WATERPORT – This family of swans is all together on Wednesday on Oak Orchard Creek.
One of the swans had a beer can stuck on its beak and had been shunned by the family. The afflicted swan was able to stay close to the family, but wasn't fully accepted while a Budweiser can was stuck on its beak, preventing it from eating.
A group of five residents were able to locate the swan on Monday evening, and removed the beer can.
They wondered if the swan would be accepted back into the family.
On Wednesday, Pam Brown, one of the rescuers, was out in a canoe with a friend and spotted the family, which includes two parents and six juveniles.
Brown was thrilled to see the family intact and the shunned swan back into the fold.