Sunday Morning Positive Perks from your Sassy Small Town Missus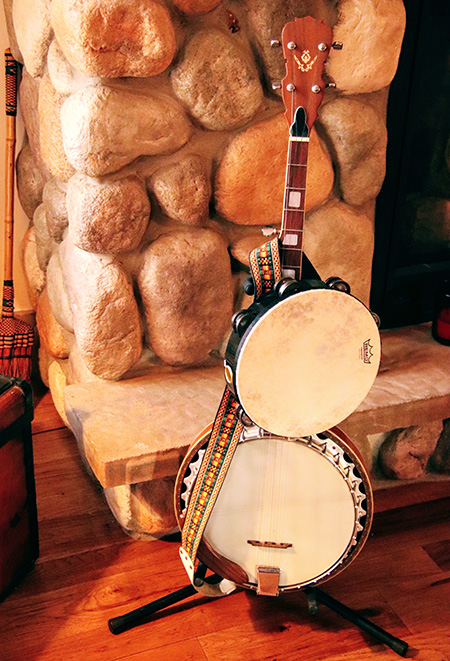 Life's Great Jam Session
We are heading to our little Tennessee Mountain retreat in the near future. On our last trip we were told about the jam sessions inside the metal pole barn at the top of the hill. The gentlemen who hosts these Jams said I will be invited. UMM, yes please! I will be there with my banjo and tambourine. I am the worst banjo player and my tambourine skills are subpar. But, who cares? As long as they will have me I intend to fake it until I make it.
Which got me to thinking, what song will I want to play at the jam session? My iPod has played the perfect song right while deliberating. It is Georgie (Strait)❤ singing "Here for a Good Time." He sings the perfect adventure song here. Life is too short for sad songs! No way is he going to lay around and "wine and moan" because someone has done him wrong. The song is a toe tapper that reminds us that everyday could be our last and there is no way to know what tomorrow will bring. So in that spirit, bring it on!
Don't waste your chance to live. He is smart enough to know that he "ain't here for a long time," so he might as well make it a good time. Great advice, Georgie. I especially like he requests a glass of moonshine as part of the good time. The lyric speaks to taking a chance to dance the dance, even if it might be wrong. Because you never know, it might be right too. Be brave and don't let fear of looking foolish keep you from trying new things. Let your hair down and twirl like there is no tomorrow. If I am lucky enough to participate in these Jams, I will keep Georgie's words in my back pocket to remind me the best times often come from the biggest leaps of faith.
There is a reason they call it a leap. You never know where you will land. And if you fall, so what, at least you tried! However, you may land in your happy place. In this song about life and living George aspires to have his gravestone read, "He left nothing behind." I am really going to shake my tambourine at that part of the song. Truly think about it. Even if you have to crawl to complete your bucket list, crawl. Even if you have half your wits, do it with half your wits. No excuses. Sometimes half-wit adventures are the funniest ones.
So as I stand in the entryway of the Jam, with many strangers, and my tambourine in one hand and my banjo in the other.. looking like I may not belong, I plan to pluck up and go for it. Because isn't that how all great adventures start, with a little sprinkle of faith in ourselves? If I don't get invited back, that would be OK too because no doubt it will be another piece of life's great puzzle of adventures.
Here is a link to "Here for a Good Time" (click here) . If I am lucky enough for an encore, I am going for "Sweet Southern Comfort" by Buddy Jewell or "East Bound Down" by Midland, for sure. What adventure is missing from your puzzle?
To see what Brian is going to be playing visit my blog live online (click here) and catch up on Weekly Photo Perks and past Sunday Posts. Like and share your comments.
Truly,
Debbie London