Sunday Morning Positive Perks from your Sassy Small Town Missus
Horsing Around With Nibs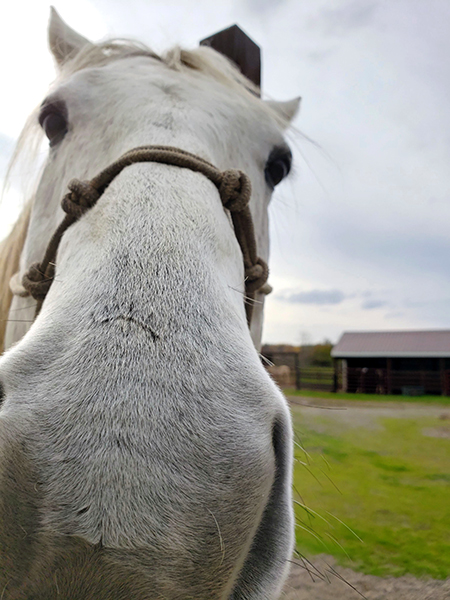 It all started on a trip many years ago to Roosevelt Lodge in Yellowstone Park, MT. My family booked a horseback riding adventure. The ride began very picturesque, feeling like a real cowgirl trotting through the meadow with the vast landscape added to the whole western vibe. Had me all in my "Giddy-Up."
It took an alarming turn when the guide said… "if you are afraid of heights do not look to your right." Um, what! A quick glance to the right left me looking straight down a cliff edge. And yes, I was afraid of heights. I freaked out, cried, carried on and almost hyperventilated.
The guide assured me the horse was sure-footed and did not want to go over the cliff, so I was safe. That did not ease the fear at all. Finally, we made it to the bottom of the mountain to our rest area. My husband said when he went to the restroom two guys were discussing the hysterical woman on the mountain. My husband said "that was my wife."
After that trip I still was in awe of horses and dreamed of riding again. It took a few years to recover and I joined my family at Lone Oak Stables in Kendall for a riding adventure, on flat land. We prepared our horses for our ride and it was lovely.
After that experience I put my mind to going back to Ms. Ellen, the owner and instructor, to learn more. It took 5 years. No one I knew was interested so I went alone. Guess what? I was the only adult in the class. It was children and teenagers. All of the students knew what they were doing, except me.
But I watched and learned because an old girl can learn new tricks. First you brush out your horse, clean their hoofs and get them saddled up. All the while building a connection. Then you get on the horse. It was a bit intimidating up on that big animal who held my life in his hoofs. His name was Nibs. It was immediate love.
He was patient and allowed me to fumble with the reins and wiggle in the saddle. By the way, I wore a little pink helmet. It was not required, but I found it prudent. We made our way around the arena many times and then ventured out for the trail ride. Truth be told it can be a little nerve-racking, but Ms. Ellen taught me how to use the emergency break for horses by pulling on the reins in a certain way. Thankfully Nibs never made me use them.
I put on the pink helmet one more time after that and joined another ride along. It has been almost a year since that last ride, and I have purchased a nice new black helmet. Things have been very busy this past year and free time is often at a premium, however someday I will get back to Nibs. The best part was the hugs we shared after our rides and the apple he took from my hand.
Never be afraid to saddle up and give an adventure a try, you never know what bonds can be made. Even if they are of the equine variety and you are the only Missus in the group.
To see Nibs saddled up, visit My Blog live online at https://www.positiveperksposts.com and catch up on Weekly Photo Perks and past Sunday Posts. Like and share your comments.
Truly,
Debbie Burgoon London