Stunt rider brings message of hope over despair, drug addiction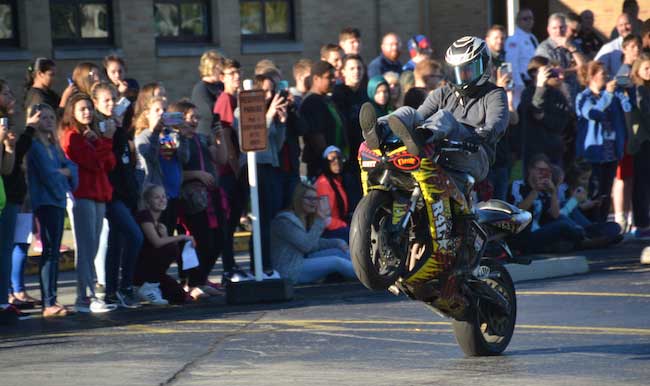 Photos by Tom Rivers
LYNDONVILLE – A trio of stunt motorcycle bike riders held the first of several shows this morning over the next three days in Orleans County. The top photo shows Scott Caraboolad doing a stunt in front of the student body at Lyndonville Central School.
Caraboolad leads the Ride4Life stunt riders that perform for schools, community events and prisons around the country.
Caraboolad is a recovering drug addict. He shares a message about making healthy choices. His three-day visit is supported by a group of churches and pastors in Orleans County, as well as the Sheriff's Office, Orleans United Drug Free Communities Coalition, Suicide Prevention Coalition of Orleans County, the Genesee-Orleans Opioid Task Force and other agencies.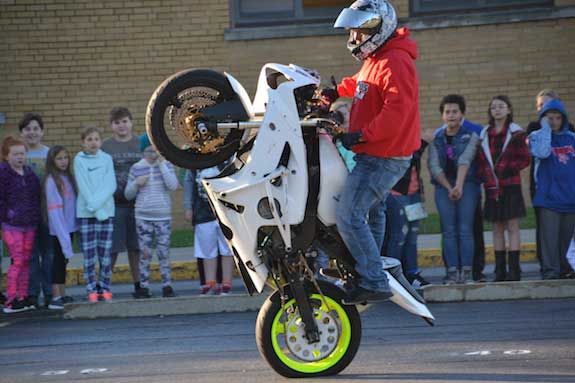 Cody Brown, one of the Ride4Life riders, does a wheelie in front of students.
The stunt riders will be in Orleans County today through Saturday, performing at three school districts, with three other shows in the community.
Ride4Life will be at Holley School District on Friday at 8:30 a.m. and Kendall school on Friday at 1 p.m.
The stunt riders will do community events today in Medina at 6 p.m. at the Canal Basin and then in Albion on Friday at 6 p.m. on East State Street with the street blocked off between Platt and Main.
The biggest event will be "Hopefest" on Saturday from noon to 6 p.m. at the Orleans County 4-H Fairgrounds in Knowlesville.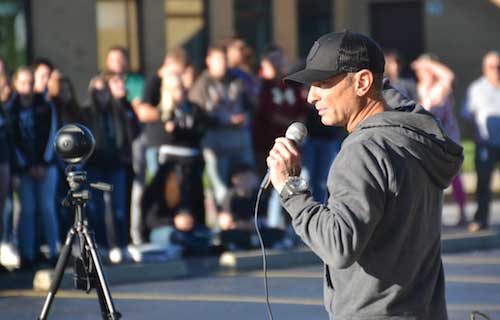 Scott Caraboolad urges students to reach out for help if they are feeling depressed or overwhelmed. Even when he was making millions of dollars as a stunt bike rider, Caraboolad said he turned to pills and then drugs to handle the pressure and stress in his life. By his late 20s, he was a drug addict with his life in shambles.
"If something is boiling over in your life, don't try to take it on by yourself," Caraboolad told the students. "Reach out to people in the community."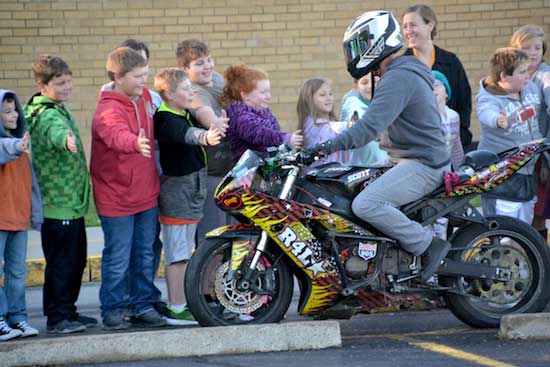 Scott Caraboolad takes a slow ride by the lineup of students, giving them high fives.
He and two other riders performed many stunts on their motorcycles. Caraboolad told the students the choices they make now will affect the direction of their lives. He said drinking alcohol, taking pills and smoking marijuana can take them off track.
He speaks at prisons and many inmates have told him it was initially small crimes that led them to becoming felons.
"When you are out in the world there are things we encounter that can alter our course," Caraboolad told the students.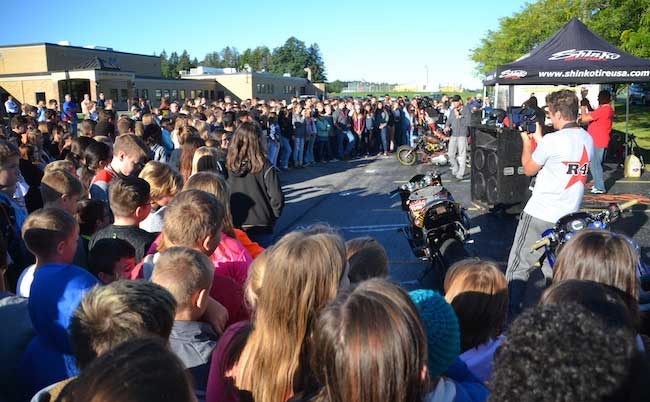 After doing the stunts, Caraboolad urged the students to come up close for his message. He also let the students sit on the motorbikes and get "selfies" with their phones.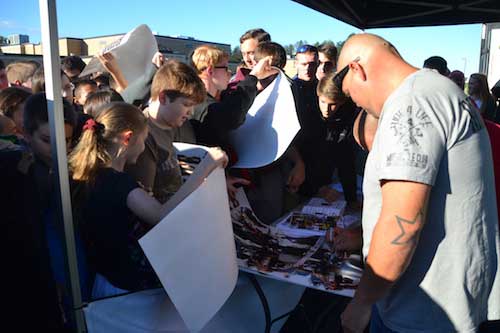 Ride4Life bike riders Shane Croxton and Cody Brown sign posters for the students.