Students travel the world with books at Albion literacy event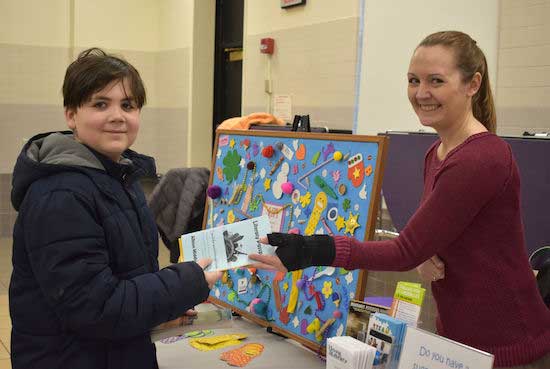 Photos and article courtesy of Albion Central School
ALBION – The Albion Middle School hosted a Literacy Family Night on Wednesday with 129 Middle School students and their families attending the event. The top photo shows Willen DeRuysscher stopping by the Hoag Library table with Teresa Gaylard.
Every participant received a "Literacy Passport" and visited 18 different stations set up by students and staff.
Once students visited the station, they received a sticker in their passport. The more stickers they received, the more chances they had at winning a variety of raffles. The stations were: Information Station, Hoag Library, Book Tastings, arts and crafts, Quizlet, science stations (making slime), math book activities, Amazing Race, and BBQ games.
The Information Station was set up for students to stop by and find their Lexile score if they didn't already know it, but most students did. The Lexile score measures a student's reading ability.  Students then chose a free book that was within their Lexile range.
The ATA (Albion Teacher Association) was on hand to give away additional books to some of the younger siblings that attended with their families.
Book Tasting stations were led by students from Mrs. Baldwin's classes. They shared highlights of books they enjoyed reading in hopes that others would want to pick up the book and read it.  Students had to research the Lexile score of the book and share a favorite passage from the book.
Meganne Moore, who helped at one of the Book Tasting tables said, "It was a lot of fun and everyone was so happy and supportive. They all loved hearing about the books." Meganne chose a book from the Percy Jackson series written by Rick Riorden.
When asked why he chose to lead one of the Book Tasting tables, Mark McCauley said, "I'm a talker.  I like to do this and share good books with others." Mark shared his book selection The Long Haul, by Jeff Kinney. It is part of the Diary of a Wimpy Kid book series.
All in all, the night was a huge success.  Families left with smiles and books and look forward to the next Family Literacy Night!