Students lead effort for headstone for baby of prominent early African-American in Albion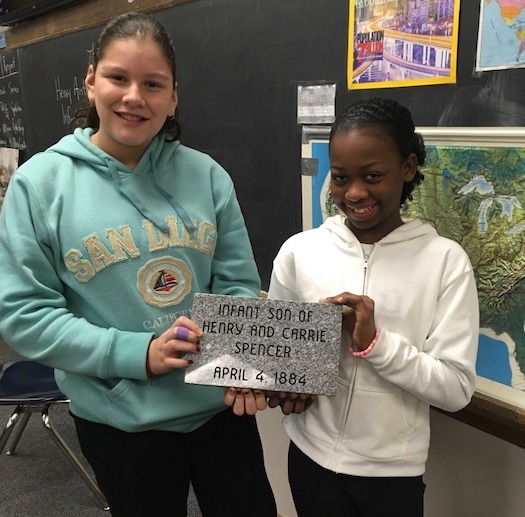 Provided photo
ALBION – These seventh-graders at Albion, Ayme Vallejo Morales (left) and Monica Thomas, hold a marble marker for the infant son Henry Austin Spencer and Carrie Spencer.
The baby hasn't had a headstone and is buried at Mount Albion Cemetery at 508 Valley. Jason Zicari, the cemetery superintendent, will have the new headstone installed.
Students in a service-learning class taught by Tim Archer in the middle school led this effort. It ties into a booklet project they are working on about Mount Albion.
The seventh-graders in November had a historical marker installed on Chamberlain Street in honor of Henry A. Spencer, who was the first African-American student at the University of Rochester in 1885. The marker is by the childhood home of Spencer at Chamberlain St.
Spencer was a pall bearer for Frederick Douglass's funeral, a member of Frederick Douglass Memorial Committee, and secretary for the NYS Assembly.