Students at BOCES praised for work designing parts for NASA
Precision machining students sign panel that will be part of locker headed to space
MEDINA – Students in the Advanced Manufacturing Program at the Orleans Career and Technical Center were praised this morning by representatives from NASA for their dedication designing parts for the agency.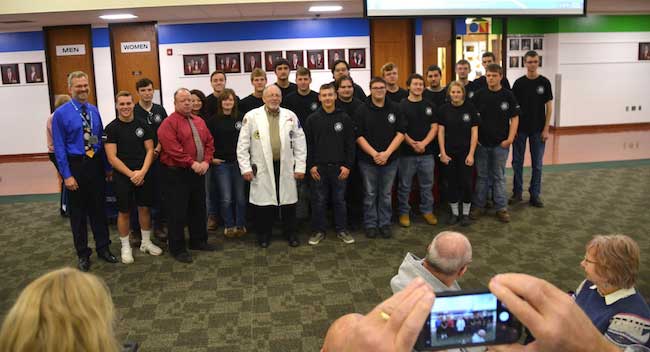 The students are pictured with their teacher William S. Rakonczay, front third from left, and Bill Gibbs (in white coat) from NASA.
Gibbs thanked the students and the class for their four years of participation in the NASA HUNCH program, where students design and build parts for NASA. Students have made a knob and other parts, working with NASA liaison, Amanda Phelps, who travels from Ohio to visit the class about every two weeks.
Rakonczay has led the class for 25 years with the Orleans/Niagara BOCES. He said the partnership with NASA has raised the expectations for students.
"The accuracy and quality needs to be 100 percent," Rakonczay said. "We appreciate the opportunity to work with NASA and be recognized."
The Orleans/Niagara students have been successful meeting NASA standards. Gibbs said the students are using the latest technology that will prepare them for careers for precision machining.
"The HUNCH program is a small step in your education, but a giant step in your future," Gibbs said.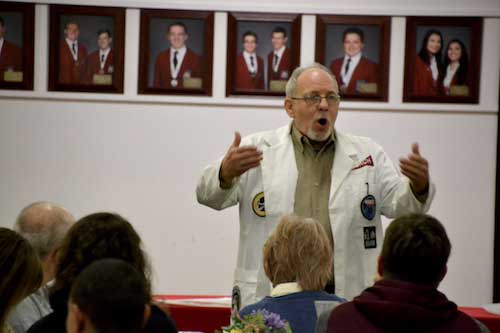 For students to meet the NASA standards, Gibbs said they need dedication and "inner fortitude" to push for perfection.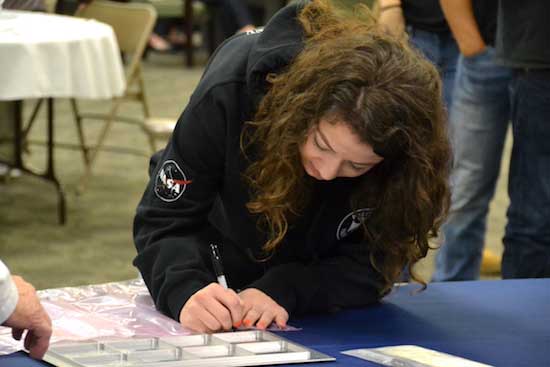 Brooke Moreland of Roy-Hart signs her name on the panel. The class has 38 students. Brooke is one of three girls in the class. She said she loves math and wants to work with technology and precision manufacturing.
"It's a growing field with a lot of promising opportunities," she said.
For more on the HUNCH program, click here.