Strawberry Festival parade winners announced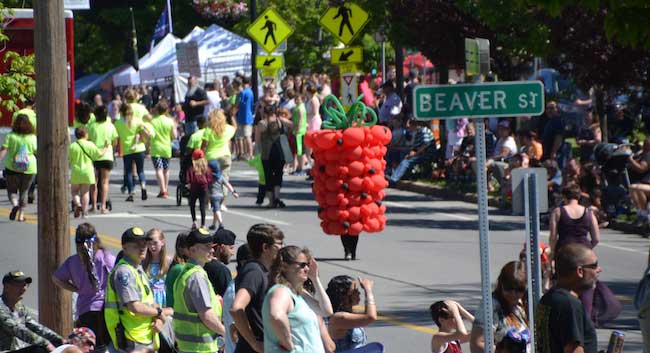 Photos by Tom Rivers
ALBION – Sheryl Watts, owner and artistic designer of Air Raising Events, made a strawberry costume out of balloons. She won the award for "Most Original" in the Albion Strawberry Festival parade on Saturday.
Watts is pictured on Main Street during the parade on Saturday.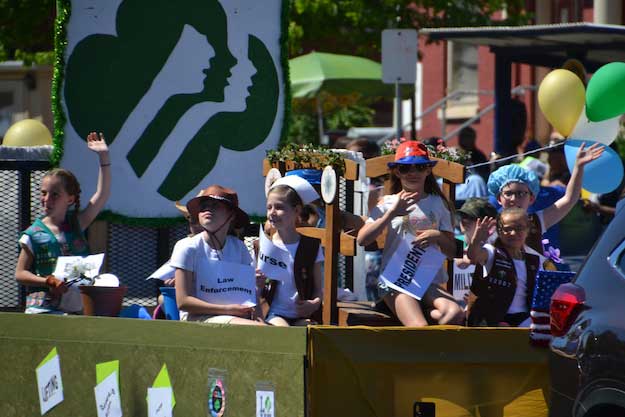 • Best Use of Theme – This year's festival had a theme of "Albion's lift bridges celebrating 100 years and still lifting." That proved a difficult theme for the floats in the parade. Most of the floats steered clear of the theme.
The local Girl Scouts in the Cobblestone Service Unit created a float that said, "Girl Scouts lifting girls up for 107 years." The Girl Scouts held signs with future career goals including working as president, in law enforcement, as a nurse, horse trainer and as a lawyer.
---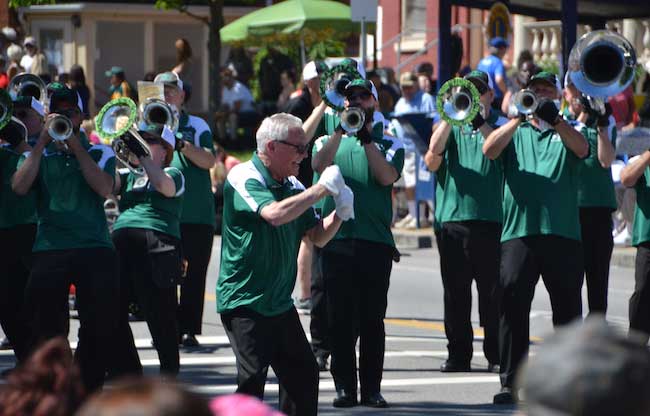 • Best Band (2): The judges picked two bands, one a drum and bugle corps and the other a high school marching band.
The Mighty St. Joe's Alumni Corps from Le Roy put on an impressive show, especially on Main Street in front of the festival grounds.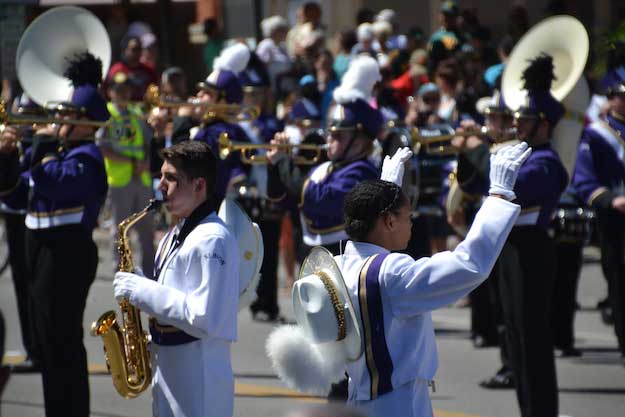 The Albion Marching Band concluded its season with its performance at the Strawberry Festival. This photo shows drum majors Nate Grammatico and Arella Ives. Grammatico took a short break leading the band to play a solo on the saxophone. This year's program is "Power of Flight" and includes the following selections: "Into the Clouds," "Somewhere Over the Rainbow" and "Fly Like an Eagle."
---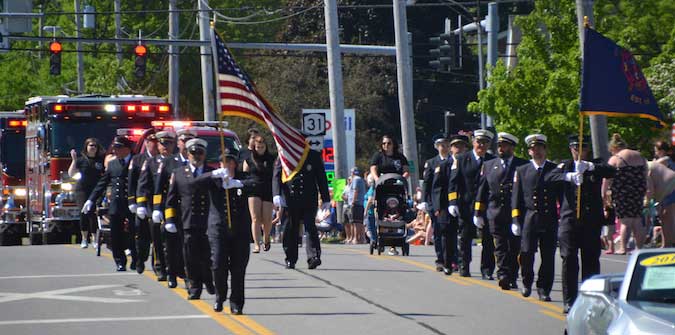 • Best Public Safety Agency: The Albion Fire Department had a big turnout from firefighters and the auxiliary, as well as several fire trucks in the parade.
---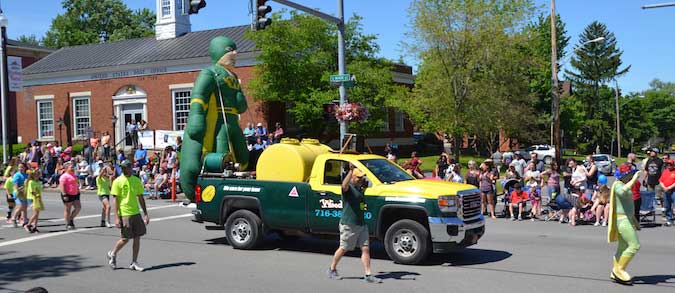 • Best use of humor: Weed Man. The Albion lawncare company has been a fixture at local parades for several years. Weed Man continues to get chuckles for the inflatable of the giant lawn care man and for the antics of "Dancing Derrick" Bradley who leads the float down the street.
---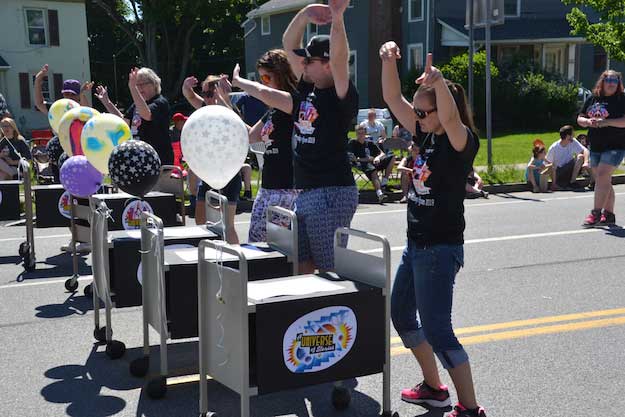 • Best Cheer or Dance (2): Hoag Library and Gotta Dance by Miss Amy.
Hoag Library for the second year in a row had a well-choregraphed dance routine among staff members with book carts. They were promoting the upcoming summer reading program.

Gotta Dance by Miss Amy performed a high-energy routine on Main Street.
---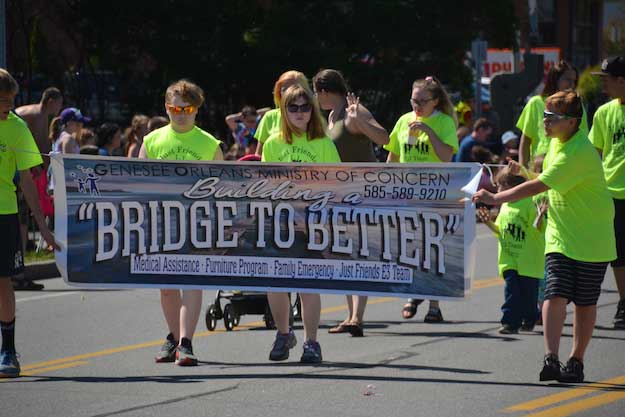 • Community Service Award (3): Genesee-Orleans Ministry of Concern had a contingent in the parade touting the organization's services.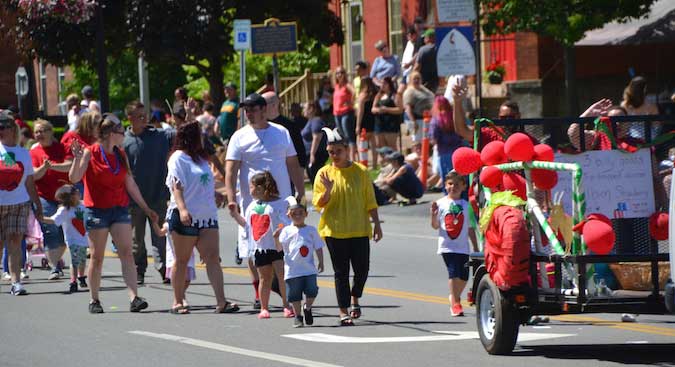 Community Action of Orleans and Genesee (Head Start) featured many kids with strawberry-themed T-shirts promoting the agency's programs to local families.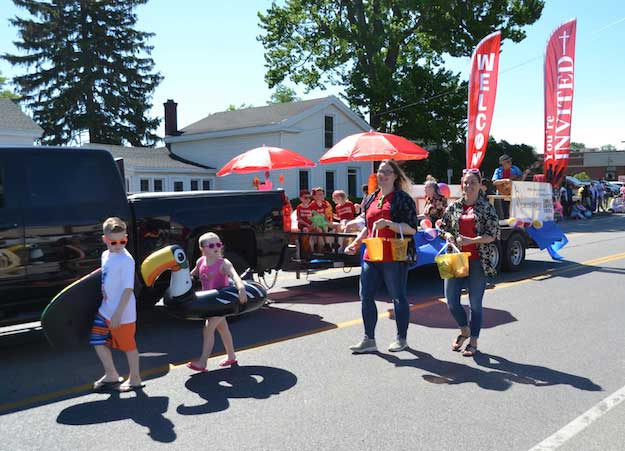 North Point Chapel in Albion not only had a fun float, but the church also emptied the garbage cans during the two-day festival and helped to organize the parade.