Strawberry Fest race returns with nearly 200 finishing 5K/8K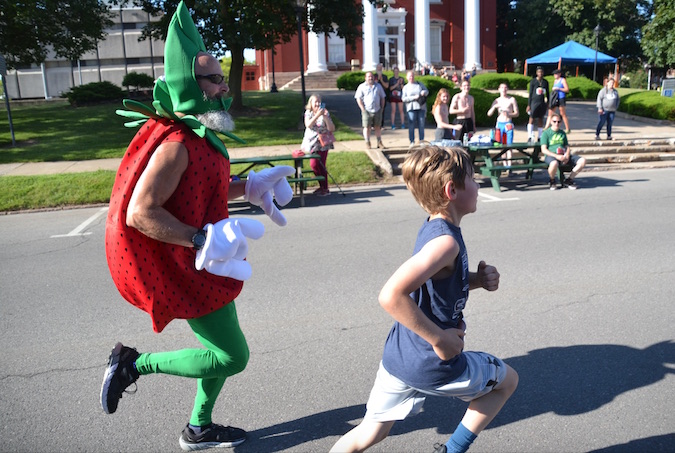 Photos by Tom Rivers
ALBION – Jackson Skrypnick, 8, of Spencerport races "The Strawberry" is the last stretch of today's Strawberry Festival 5K/8K. Jackson held off The Strawberry.
Brett Sobieraski of Kent wore the costume. He is a retired Rochester Police Department sergeant and continues to be an endurance athlete.
About 200 finished the race this morning. This was the 30thyear for the race. Last year's event was cancelled due to Covid-19 restrictions.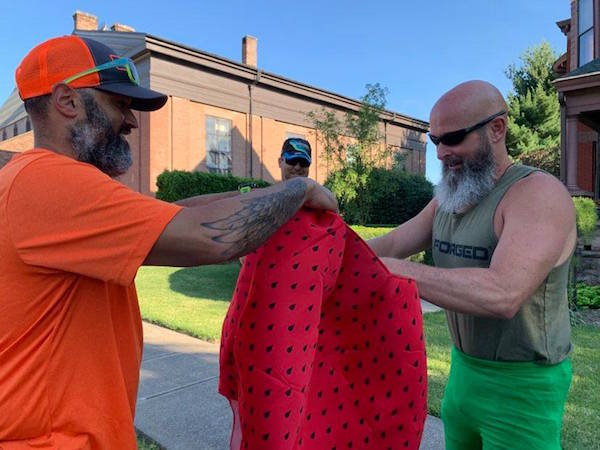 Bert Gallmon, left, served as the race director for the Albion race for the first time. He runs Wolfpack Multisport, which manages other events in the region. Gallmon helps Sobieraski put on the Strawberry costume. Gallmon kept the tradition of having a local runner wear the costume for the race.
Alden Cayea of Medina was the first male to finish, completing the 5K in 18:08. Dana Goetze of Lyndonville was the first female to cross the finish line, with a time of 21:00.
In the 8K, Roger Bolton of Albion was the fastest male in a time of 30:41 and Amy Konopka of Scottsville was the fastest female at 34:22.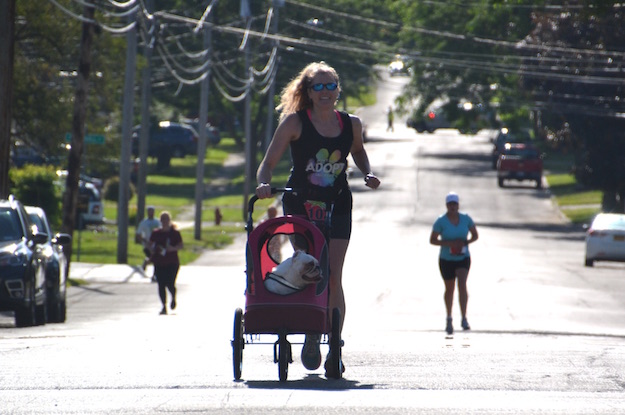 Erin Smith Casillo heads down East State Street near the finish for the race. She is pushing her dog Ruthie in the stroller. She has pushed three of her kids in a stroller in the race in prior years. This was Ruthie's first time in the 5K. Ruthie is a Shorty Bull – half English and half French bulldog.