Strawberry Fest gets started after missing 2020, 2021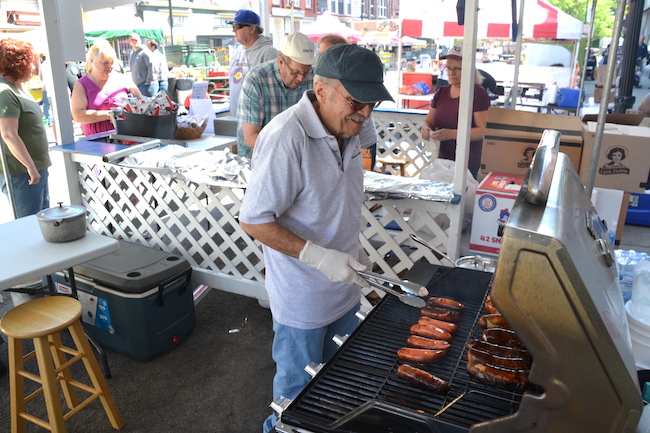 Photos by Tom Rivers
ALBION – Fred Nesbitt cooks hot dogs in a booth run by the Albion Rotary Club and Cobblestone Museum. They are in the food court on East Bank Street. The food court opened at 11 a.m. and continues until 9 p.m. today, and then again on Saturday as part of the 34th Albion Strawberry Festival.
The festival is back this year after being derailed by Covid-19 in 2020 and 2021.
There are many arts and craft vendors at the courthouse lawn, and service organizations and businesses selling food and beverages in the food court.
There also will be several groups performing live music during the two days at the courthouse, and at the east and west end of the food court.
Today's music schedule includes Warren Paul from 1 to 3 p.m., Mike McCauley from 3 to 5 p.m., MAC from 5 to 7 p.m., the Kendall Community Band from 5 to 7 p.m., Triple Play from 6:30 to 8:30 p.m., and Ryan and Scott Acoustic Duo from 7 to 9 p.m.
Saturday includes more live music, a 5K/8K at 8 a.m., car cruise-in from 10:30 a.m. to 3 p.m., parade at 10 a.m., basketball tournament beginning at 12:30 p.m., and turtle race at 2 p.m.
Some of the other activities include a "Pie in the Face," I Got It, bounce houses, trackless train rides, magician, face painting and balloon clown.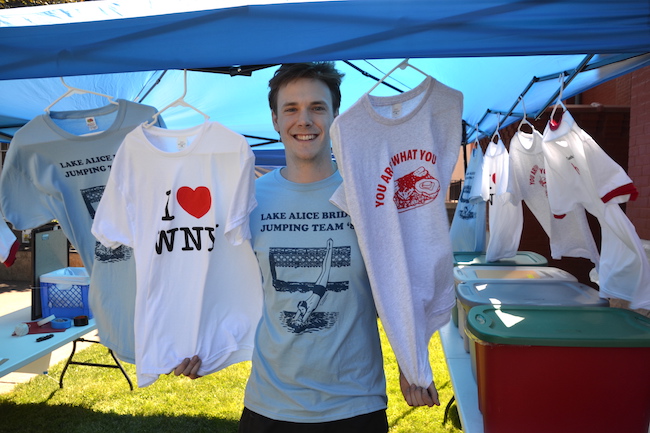 Scott Daniels is shown with some of the T-shirts being sold from the Towpath Trading Post, which runs the Ormemes Post on Facebook and Instagram.
Daniels and his friends, Freeman Lattin and Kyle Thaine, have been creating satirical posts about Orleans County and Western New York for five years. He is wearing a shirt for the Lake Alice Bridge Diving Team. They are also selling stickers.
They are many other vendors at the courthouse lawn selling merchandise.