Storm knocked down gravestone in Clarendon last known Revolutionary War soldier to die
CLARENDON – Lemuel Cook lived to be 107, dying on May 20, 1866. He was the oldest pensioner of the American Revolution, considered the last surviving soldier from the war that gave the United States its independence.
Cook is buried in Cook Cemetery on Munger Road in Clarendon. His gravestone has been damaged over the year, occasionally pushed over by vandals.
The gravestone was knocked over again last Wednesday. This time the culprit was powerful winds from a storm that knocked out power for hundreds of thousands of people in Western New York and the Finger Lakes. Nearly the entire town of Clarendon went at least two days without electricity.
The town is proud of Cook, and has set May 20 as the dedication for a historical marker at the cemetery, noting Cook's service in the Revolution.
The town will have to work to have the gravestone reset in time for the dedication, Town Historian Melissa Ierlan said this morning.
The gravestone doesn't have pins to help holds the pieces together. One recent repair used caulk to help hold the stones pieces in place.
The town has five pioneer cemeteries and Ierlan said two of them were damaged from the storm last week.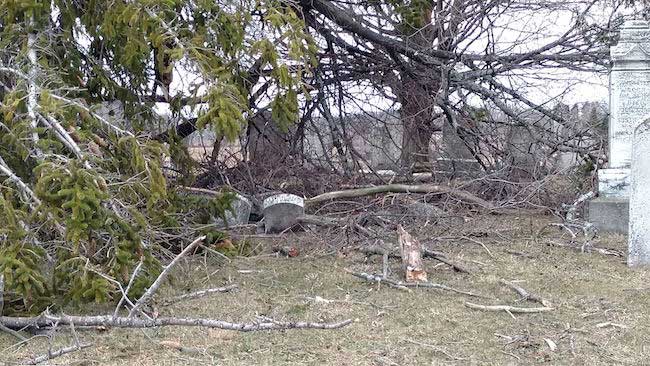 Besides Cook Cemetery on Munger Road, a cemetery on Hibbard Road, just off Route 31A, had a tree and big branches come down. That site on Hibbard Road includes the grave of Eldredge Farwell, the town founder.
Eldredge Farwell died in 1843. Farwell discovered Clarendon in 1810 while looking for his brother Isaac's lost horse. He traced Isaac's footprints along the border of Sandy Creek and was impressed with the town waterfalls.
Farwell saw the waterfalls as a potential source of power for business. He moved his family to Clarendon in 1811 and built saw and grist mills. The town was originally named Farwell's Mills but was renamed to Clarendon. Farwell was from Clarendon, Vermont.