Still no word on whether food distributions will continue after this week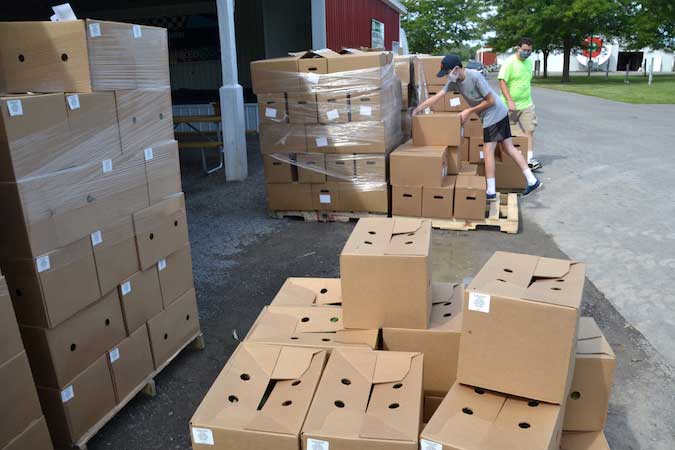 Photo by Tom Rivers
KNOWLESVILLE – Hugh Gabalski, left, and his brother John were among the volunteers who helped distribute 1,900 boxes of food today at the Orleans County 4-H Fairgrounds.
This was the seventh food distribution event at the fairgrounds during the Covid-19 pandemic.
Today's boxes included 1,450 of produce and 450 of dairy.
The Cornell Cooperative Extension of Orleans County works with James Desiderio Inc., a Buffalo food distributor, and Foodlink in Rochester on the events.
Today's 20-pound boxes of produce included 8 ears of corn, 3 pounds of apples, 2 green squash, 1 pint of grape tomatoes, 3 green peppers, 3 pounds of onions and 5 pounds of potatoes.
There have been food distributions at the Fairgrounds the second and fourth Wednesdays, and on Fridays at either Albion, Medina or Holley. This Friday morning at the Holley Junior-Senior High School parking is the last distribution on the schedule. That event will likely start around 8:30 and lasts until the food runs out.
Organizers have been waiting to hear from Foodlink and the other distributors if the government-funded program will continue.
Annette Finch, community service director for Community Action, and Melissa Blanar, Office for the Aging director in the county, are leading the distribution on Friday in Holley.
Robert Batt of the Extension has been organizing the efforts at the Fairgrounds. He commended the Kendall Lions Club for taking 69 boxes to people in Kendall, while the Albion Lions Club distributed 15 to Albion community members. The Hands 4 Hope ministry also picked up 10 to be given out to people who may not have cars or were unable to get a ride to the Fairgrounds.