Statuesque, NY: Chautauqua County town adds statues of Marmaduke, creator of famous Great Dane
BROCTON – For 61 years artist Brad Anderson shared stories of a Great Dane, 20,000 comic strips in all of Marmaduke. At its peak, Marmaduke appeared in more than 600 newspapers in 20 countries.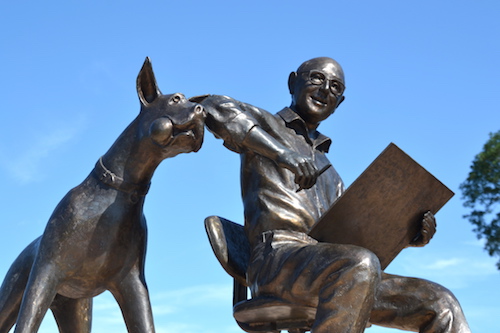 Anderson was 91 when he died on Aug. 30, 2015. Many of his friends and admirers in his hometown already had been working on a bronze statue of Anderson and Marmaduke when Anderson died. It took four years of fund-raising and planning to make the project a reality.
The statues of Marmaduke and Anderson were unveiled over the July 4th weekend in Brocton, a small village in Chautauqua County in the Town of Portland.
Charles Krauth and his wife Barbara are on the Brad Anderson Recognition Committee that has pushed for the statue.
The group was able to accept tax-deductible funds through the Brocton Portland Development Corporation. It also had an online Kickstarter campaign that raised more than $30,000.
The group is continuing to sell memorial bricks, and many people are buying them in memory of beloved pets.
"It takes a lot of time and everything costs money," Mr. Krauth told me on Saturday.
The statues are about 5 miles from my mother's house. While visiting her this past weekend, I went to check out Marmaduke. Krauth happened to drive by when I was at the statue, which was built on donated land next to the Portland Town Hall. He stopped to chat about the project.
Krauth said having the Brocton Portland Development Corporation was a key in getting the project going. That group was a conduit for people to donate tax-deductible money.
Krauth said the fund-raising was slow in the beginning, but the Kickstarter campaign made a big difference. However, there was a lot of pressure because the community needed to raise 100 percent of its $30,000 goal through Kickstarter. It wouldn't be able to collect on the donations unless it reached the goal. It raised $31,470. (Click here to see the Marmaduke Kickstarter.)
Nearby Westfield has two bronze statues – Abraham Lincoln and Grace Bedell. The community put those up to honor the girl who wrote the letter to Lincoln, urging him to grow a beard. Grace grew up in Albion but lived in Westfield briefly. (Albion has a historical marker for Grace Befell by her home on West State Street.) She mailed the letter from Westfield and that's where she met Lincoln on his inaugural journey by train. He stopped at Westfield to see her. The statues were created by Westfield native, Don Sottile, who has a studio in Penn Yan.
Sottile was hired to create Marmaduke and Anderson in Brocton. Sottile met with Anderson before he died when Anderson was in town for a class reunion in 2012.
Sottile shows Anderson sitting at his art board with Marmaduke giving him a playful nudge. The Great Dane has a ball in his mouth, ready to play fetch.
Krauth said the statues have been an attraction the past two months.
"People stop by all the time," he said.
The group looked at putting Marmaduke in the downtown area, but Krauth said the committee didn't think there was enough room.
The Town Board made land by the Town Hall available. Krauth said people park by the Town Hall and go see the statues. The site isn't quite done. Krauth said memorial bricks, many with dog prints in honor of beloved pets, are being set around the base.
He and his wife said they are grateful they joined the committee and worked on the project.
"I'm retired," he said. "I wanted to do something good for the community."
Anderson, who served in World War II with the Navy, lived in Montgomery, Texas. He was interviewed in 1999 by The Dallas Morning News. Anderson told the newspaper he didn't want to give Marmaduke a human personality.
"He's not a talking dog," Mr. Anderson told the newspaper. "He doesn't have a balloon above his head, he doesn't walk on his hind legs. He walks and does things a real dog would do."
Anderson was happy to chronicle the amusing antics of an awkward but lovable dog.
"I wanted a dog that doesn't know it's a big dog, because big dogs don't realize how large they are," Anderson said in the 1999 interview. "They want to sit in your lap."