Statuesque, New York: Niagara Falls statue honors Tesla, innovator in electricity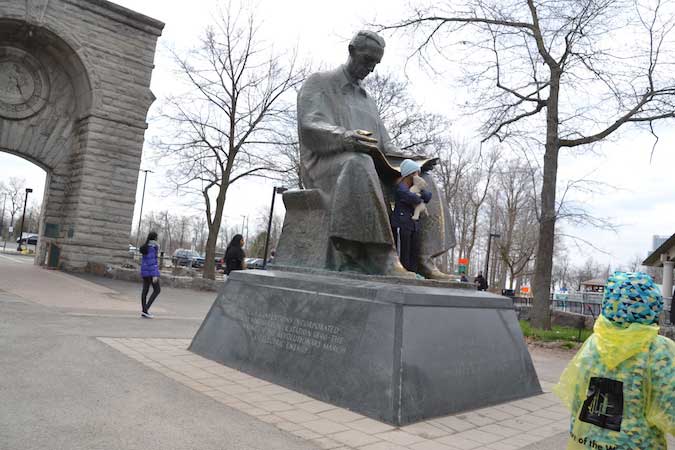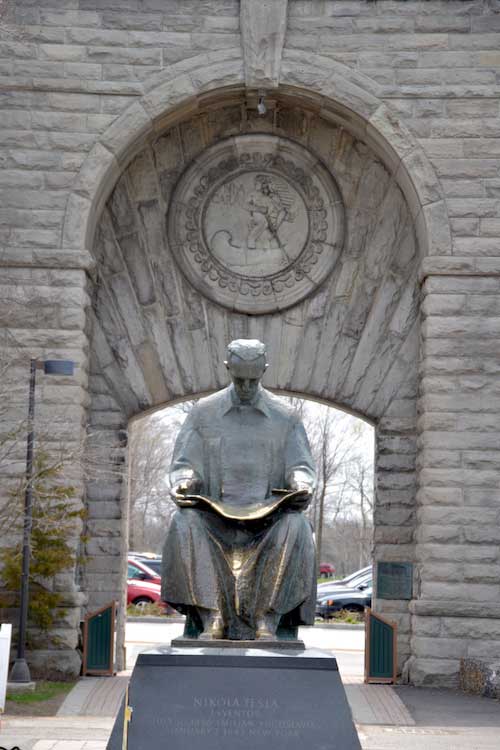 Photos by Tom Rivers
NIAGARA FALLS – This statue of Nikola Tesla is at Goat Island at Niagara Falls on the American side. Tesla was an incredible innovator who bested Thomas Edison in figuring out how electricity could be sent far from where it was produced.
Tesla designed the first hydropower plant at Niagara Falls. It was a huge victory for Tesla's alternating current theory over Edison's direct current and responsible for the electrification of the world.
Tesla's achievement sent electricity from the falls to Buffalo, fueling Buffalo's dramatic growth in early 1900s.
This statue of Tesla was given from his home country of Yugoslavia in 1976 in honor of Tesla's 120th birthday and also the bicentennial of the United States. Croatian sculptor Frane Krsinic created the monument of Tesla.
I saw it last April not long before Tesla was moved by the State Parks to a spot by Stedman's Bluff at the brink of the falls.
I liked the former location. It's the first thing you see after passing through the arch. That entrance was part of the old Niagara Falls power plant that Tesla helped build in 1895. It was the first major hydro plant in the world.
Tesla is depicted sitting in a large chair. He appears to be looking over a plan or blueprints. (There are some shiny spots on the blueprints likely caused from where tourists would sit to get their selfies and photo-ops.)
Tesla doesn't have the fame of Thomas Edison, but Tesla has become more popular, particularly after Elon Musk named his electric cars after him.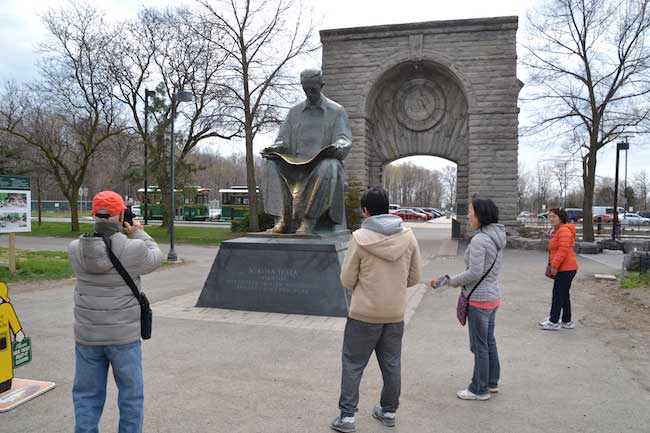 The Tesla statue is popular with tourists.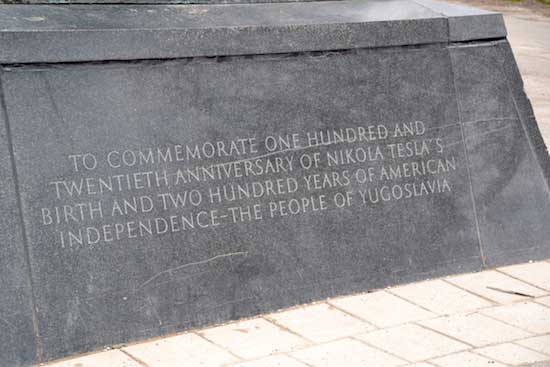 The statue sat on a black granite base. It was a gift to the United States from Yugoslavia in honor of the bicentennial and the 120th anniversary of Tesla's birth.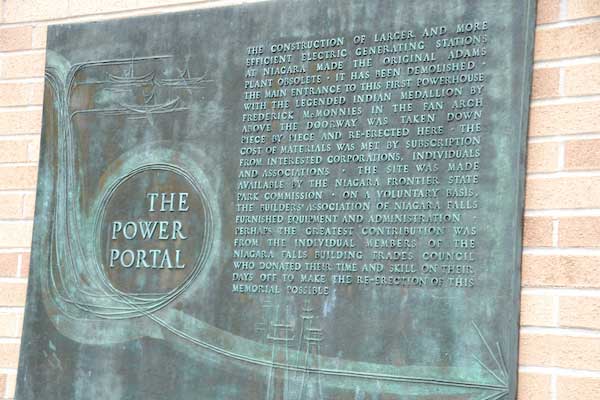 The original power plant designed by Tesla was demolished after a larger, more efficient plant was built. The main entrance was taken down and re-erected at Goat Island with the Indian Medallion in the arch also taken down and recreated here piece by piece. This plaque notes that the entrance and arch work was performed by members of the Niagara Falls Building Trades Council, who donated their time to preserve this important piece of history.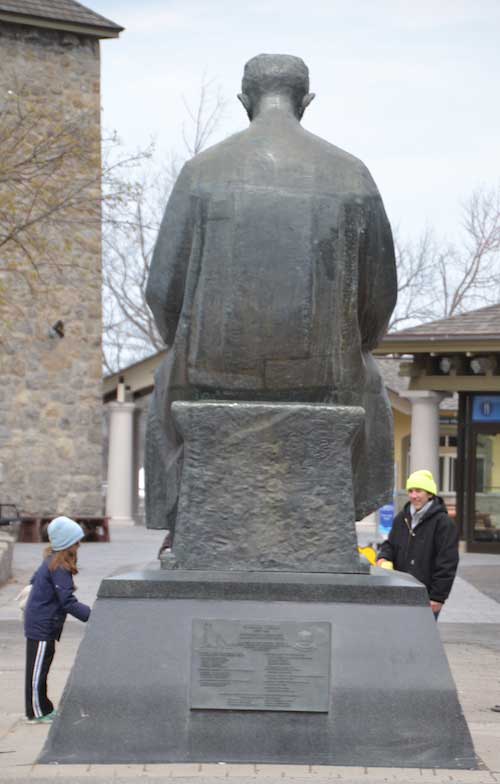 Tesla looms large at Goat Island.
When I was at Goat Island last April, many people stopped to admire the statue, to learn about Tesla and his major feat at Niagara Falls. Some people climbed up to get a photo in his lap.
There is another bronze statue on the Canadian side of Niagara Falls that was installed in 2006 within Queen Victoria Park. But the statue at Goat Island is the first in North America to honor Tesla. When he was a boy in Croatia, Tesla saw a photo of Niagara Falls and set a goal of putting a wheel under the falls to harness the power of moving water.
Tesla gave this speech on January 12, 1897, the opening of the hydroelectric power station:
"We have many a monument of past ages; we have the palaces and pyramids, the temples of the Greek and the cathedrals of Christendom. In them is exemplified the power of men, the greatness of nations, the love of art and religious devotion. But the monument at Niagara has something of its own, more in accord with our present thoughts and tendencies. It is a monument worthy of our scientific age, a true monument of enlightenment and of peace. It signifies the subjugation of natural forces to the service of man, the discontinuance of barbarous methods, the relieving of millions from want and suffering."