Statuesque, New York: 'French Connection' immortalized in bronze in Buffalo
Sabres stars in the '70s focal point of Alumni Plaza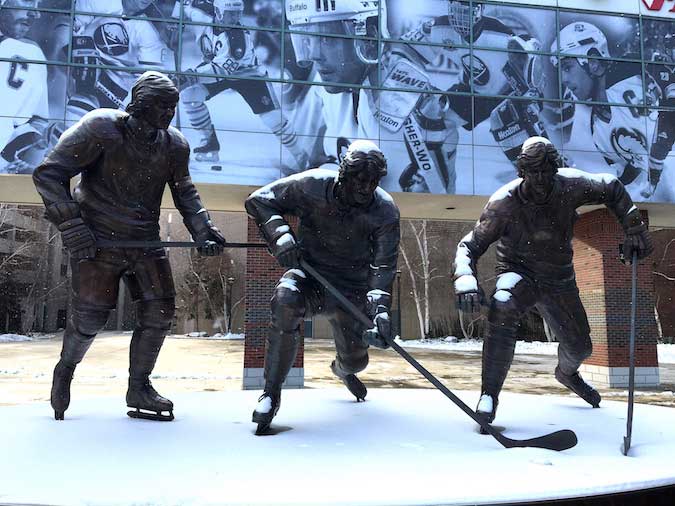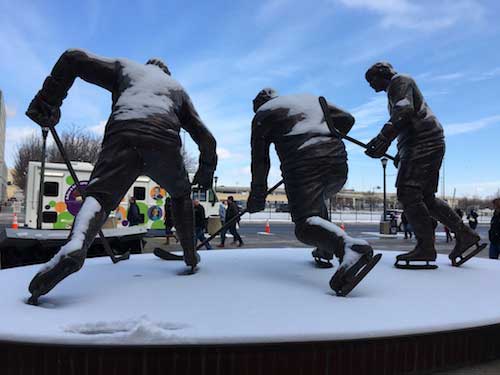 Photos by Tom Rivers
BUFFALO – The most famous and productive line in Buffalo Sabres history – The French Connection – is immortalized outside the KeyBank Center. I was there Saturday to see my first Sabres game.
The bronze statues of Rick Martin, Gilbert Perreault and Rene Robert are popular with fans. Many stopped to take selfies before the game.
The French Connection accounted for 1,116 goals and 2,573 points in 2,396 games together. They were a dominant force during the 1970s.
The statues were unveiled on Oct. 12, 2012. They are the focal point of the Alumni Arena, honoring the 400-plus players since the Sabres started in 1970-1971.
The 7-foot-high statues are the work of sculptor Jerry McKenna from Boerne, Texas. The poses are based on a photograph taken by Ron Moscati during an April 1975 playoff victory over the Montreal Canadiens. All three scored in the game. It is a rare photo from a game with all three of the French-Canadian stars in the same picture.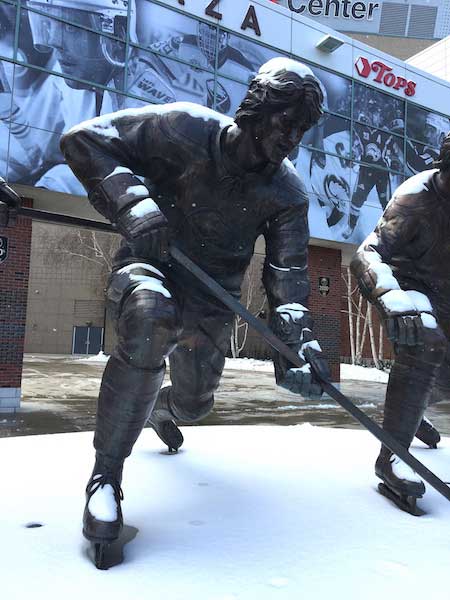 Gilbert Perreault played center and was the Sabres first draft pick in their debut season. He is the only one to ever wear No. 11 for the team, which has retired his number. He played 17 seasons for Buffalo and holds team records for most games (1,191), goals (512), assists (814) and points (1,326). He added 33 more goals and 70 assists in the playoffs. He was inducted into the Hockey Hall of Fame in 1990.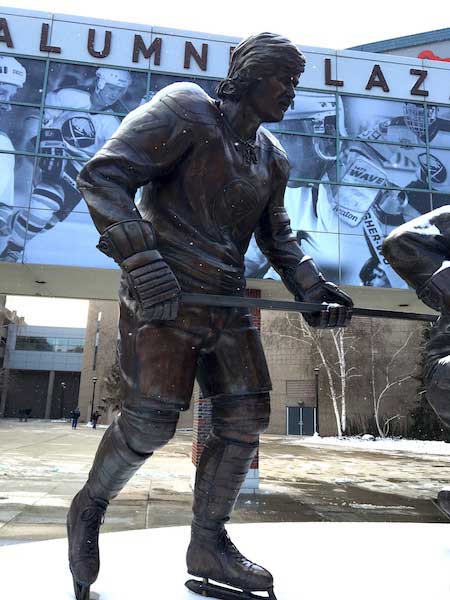 Rick Martin, a prolific left winger, topped 50 goals twice for Buffalo and had 40-plus three other seasons. Martin was picked to play in seven straight NHL All-Star games (1971–72, through 1977–78).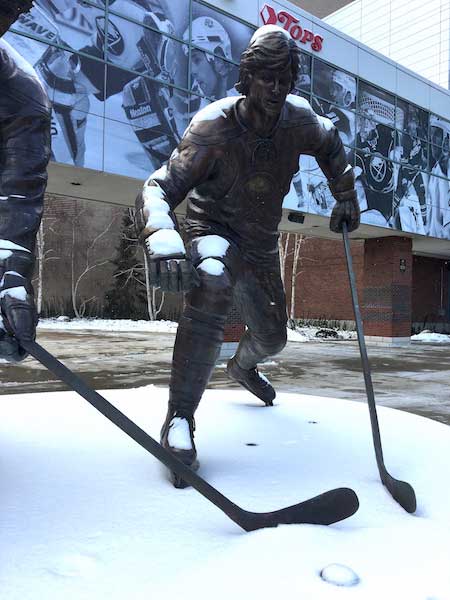 Rene Robert played right wing and topped 40 goals twice, and had 40 assists seven straight years. He played in two NHL All-Star games. In 74-75, he was the first Sabre to reach 100 points in season, with 40 goals and 60 assists.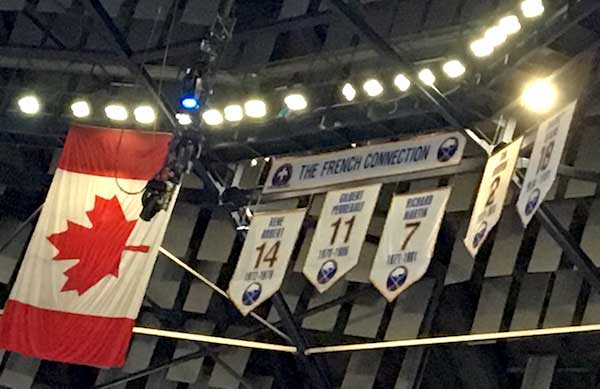 The Sabres have retired the numbers of the French Connection, including Martin's No. 7, Perreault's No. 11 and Robert's No. 14. The numbers were retired November 15, 1995, and they hang from the rafters under a French Connection banner.