State Senate issues proclamation in honor of 80th anniversary of Santa School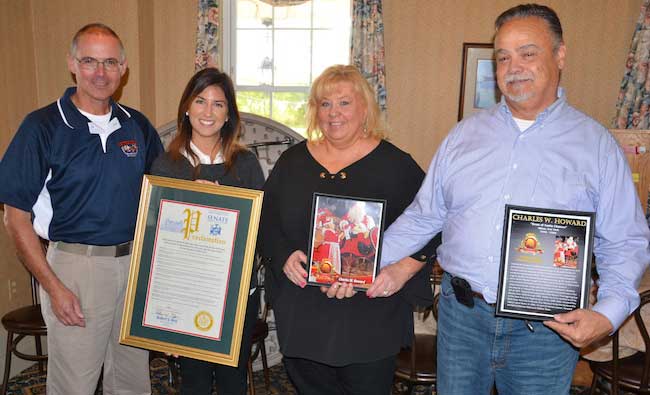 Photo by Tom Rivers
ALBION – State Sen. Robert Ortt issued a proclamation from the State Senate this week honoring Charles W. Howard "for a lifetime of exceptional dedication to bringing love, joy and the holiday spirit to the hearts of millions."
The proclamation was presented Thursday during the Albion Rotary Club meeting. Phil Wenz portrays Santa Claus year-round at the Santa's Village theme park in Dundee, Illinois. Wenz also is a Santa historian and coordinates annual Santa conferences, which have twice been in Albion. He worked with Ortt on having the proclamation in honor of Howard, who started a Santa Claus School 80 years ago in Albion.
Wenz, left, is pictured with Madelyn Genovese, communications director for State Sen. Robert Ortt, David Holland and Jane Holland, who is Howard's granddaughter. Dave and Jane live in the Buffalo area.
Jane thanked the Albion community for keeping her grandfather's memory alive.
"This village and town will always be a special part of our family," she said.
Howard started the school with three students On Sept. 27, 1937, Wenz said. The school would grow in the following years, and newspapers and magazines did features on the school, which raised Howard's profile. In 1948 he was Santa in the Macy's Thanksgiving Day Parade, and did that every year until 1965.
He expanded the school in Albion and developed Christmas Park at the corner of Phipps Road and Route 31.
"This small amusement park would become well known all over New York and the surrounding states, bringing children and families to experience a little bit of Christmas throughout the year," according to the proclamation from Ortt.
Howard ran the school from 1937 until his death in 1966. The school continues today in his name at Midland, Michigan.
For more on the school, click here.