State funding will help with DePaul supportive housing project in Albion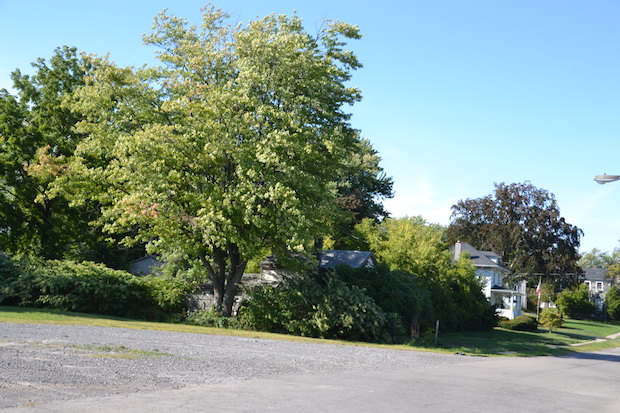 Photo by Tom Rivers: Three houses on Liberty Street, between the railroad tracks and Beaver Street, would be removed to make way for a 45-unit supportive housing project by DePaul Community Services, Inc. Gov. Cuomo announced state funding for the project today.
ALBION – A 45-unit supportive housing project on Liberty Street has been approved for state funding, according to an announcement from Gov. Andrew Cuomo today.
DePaul Community Services, Inc. wants to build the project on Liberty Street, between the railroad tracks and Beaver Street. The organization would remove three houses that are on that section to make room for the housing project.
DePaul has told village officials the project would be similar to a DePaul site in Batavia that serves low-income residents. DePaul would have services and staff on site.
The two-story building in Albion would have parking on site as well as green space. Village officials say DePaul would be tax exempt, but would contribute money to the local government in the form of a PILOT or payment in lieu of taxes.
In an announcement today, the Albion project was among 121 projects with 1,200 units approved for funding, including 79 throughout upstate New York and 42 in New York City.
The funding will support the development of 1,200 units of supportive housing for vulnerable New Yorkers who are at risk of homelessness, the governor said.
The state Homes and Community Renewal and the Office of Temporary and Disability Assistance will work with supportive housing providers to secure the capital funding needed to complete supportive housing projects. These awards represent a major step forward in the Cuomo's $2.6 billion, five-year plan to construct 6,000 new supportive housing units across New York State.
"The state is taking aggressive action to end chronic homelessness and help move thousands of New Yorkers into permanent housing," Cuomo said. "These awards will not only help ensure New York's families and children have a safe, comfortable place to call home, but provide them with the resources they need to change their lives. With the development of these vital units, we are swiftly moving forward on the state's transformational blueprint to tackle this crisis and bringing hope and opportunity to our most vulnerable New Yorkers."
DePaul Community Services also received state awards for projects in Genesee, Livingston and Wyoming counties.
The 1,200 new and permanent supportive housing units will serve vulnerable populations with special needs, and will include a variety of services tailored to their needs, such as employment training, counseling and crisis intervention, educational assistance, legal services, independent living skills training, benefits advocacy and assistance in obtaining and maintaining primary and mental healthcare, according to the governor's announcement.
Targeted homeless demographics include veterans, victims of domestic violence, frail or disabled senior citizens, young adults with histories of incarceration, homelessness or foster care, chronically homeless individuals and families, as well as individuals with health, mental health and/or substance use disorders, the governor said.