Starlite Cleaners, Medina building damaged in fire a decade ago, being torn down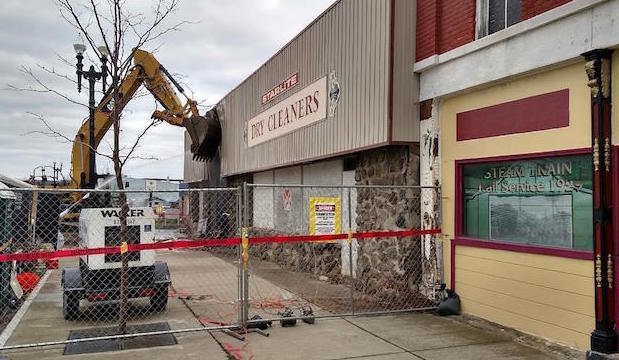 Provided photos
MEDINA – Contractors hired by the state Department of  Environmental Conservation are tearing down the Starlite Cleaners building at 331 North Main St. The top photo shows the demolition that started on Monday.
"The whole thing coming down by this week," said Mayor Michael Sidari.
The DEC had a firm study the site for contaminants and also to see if the building was structurally sound. The DEC deemed the site unsafe, and is taking it down after the asbestos and other contaminants were removed.
Once the building is down, Sidari said the site will be covered for three to six months until there is another environmental study. If there are remaining contaminants, they will likely also be removed and the site redeveloped, perhaps as a municipal parking lot or Sidari said another developer may have interest in building on the site.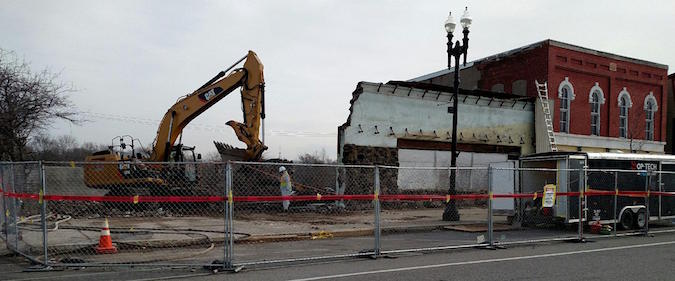 This photo shows the site earlier today when most of the building had been knocked down.
"Everything is up in the air right now," Sidari said about the future of the site. "There are many ideas."
The Village of Medina has been working on an fix for the site for years, including paying for an environmental audit of the site.
The former Starlite has been empty since a fire in the building about a decade ago.
The Starlite site has been in limbo for several years. Matt Mosher of 331 Main Street Incorporated is the owner of the property, but the taxes haven't been paid in several years.
Normally a property with unpaid taxes over several years would then be turned over to Orleans County, but the county hasn't accepted the property due to the environmental liabilities.
Sidari said he expects the village will become owner of the property.