St. Vincent DePaul donates to Community Kitchen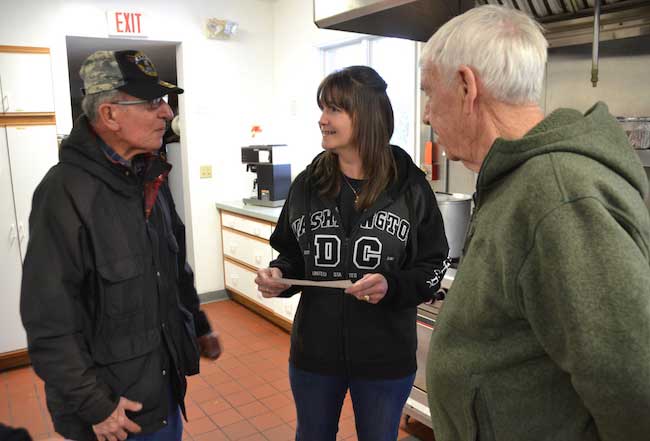 Photos by Tom Rivers
ALBION – The Society of St. Vincent DePaul in Albion donated $500 to the Community Kitchen this afternoon.
Cas Pruski, left, is president of St. Vincent DePaul and Tom Noon, right, is a member. They presented a check to Faith Smith, the volunteer director of the kitchen which is based at Christ Church on Main Street.
The Community Kitchen serves about 500 meals throughout the month on Friday evenings. The effort is made possible through donations and volunteers.
"It helps us immensely," Smith said about the $500 donation.
The food is prepared and served through volunteers. The first Friday, workers from Baxter Healthcare in medina team with Christ Church members in preparing and serving the meal, followed by The Lord's House in Waterport the second Friday, Holy Family Parish the third Friday, the Albion Free Methodist Church the fourth Friday and the West Barre United Methodist Church the fifth Friday.
Smith said she welcomes more volunteers and donations. For more information, contact her at (585) 319-1578 or by email, mesilly12@yahoo.com.