Sportsfishing coordinator, local doctor recognized by Legislature for achievements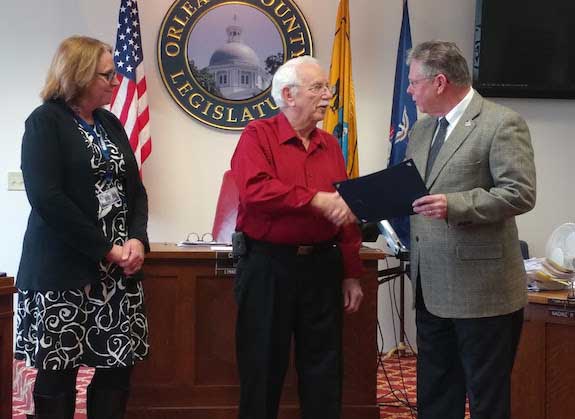 Provided photos
ALBION – Two Orleans County residents were presented with a "Special Recognition Award" for their achievements. The top photo shows Mike Waterhouse receiving an award from County Legislator Ken DeRoller. Waterhouse is retiring after 13 years as the county's sports fishing and tourism promotion coordinator. Dawn Borchert, left, is the county's new tourism director.
"We do hereby acknowledge your outstanding service as our Sportsfishing and Tourism Coordinator for Orleans County for over 13 years," according to the award from the County Legislature. "Your dedication and expertise has benefited our fishing and Tourism industries.  We appreciate your support and commitment in promoting the assets we have in Orleans County. This will forever be widespread, long lasting and extremely appreciated."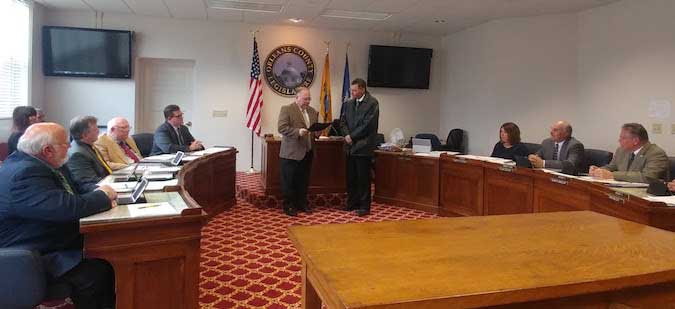 Dr. Tom Madejski accepts a "Special Recognition Award" from County Legislator Skip Draper. Madejski on March 24 took office as President of the Medical Society of the State of New York. Madejski, an Albion resident, practices at General Physicians Medical Practice in Medina.
Madejski is an attending physician at Medina Memorial Hospital and serves on the hospital's Medical Quality Assurance Committee. He is also a clinical instructor in medicine & pharmacy at University of Buffalo. With a specialized focus in geriatric medicine, Madejski is the medical director of The Villages of Orleans, Absolut Care of Gasport Nursing Facility and the Hospice of Orleans County.
"Your dedication to your profession is outstanding and highly beneficial to the residents of Orleans County, and beyond," according to the certificate presented by the County Legislature.  "We appreciate your support and commitment in providing quality health and wellness care to our friends and family, as well as our community. This will forever be widespread, long lasting and extremely appreciated. The Orleans County Legislature does hereby commend you for your professionalism and allegiance to our Orleans County community."