Speakers give Albion community some inspirational advice

'Parents, it's OK to push our children'
Photos by Tom Rivers
ALBION – Dr. Adolph Brown III and his team of motivational speakers visited Albion on Tuesday to meet with students, teachers and community members. Brown gave high-energy speeches throughout the day. He is pictured on Tuesday night in the middle school auditorium.
Brown is speaking at schools across the country, with a message about "character, choices and consequences."
Brown grew up without a father. He praised the nurturing influence of his grandparents in setting high expectations for him. Brown had the Albion crowd give a round of applause for all the grandparents.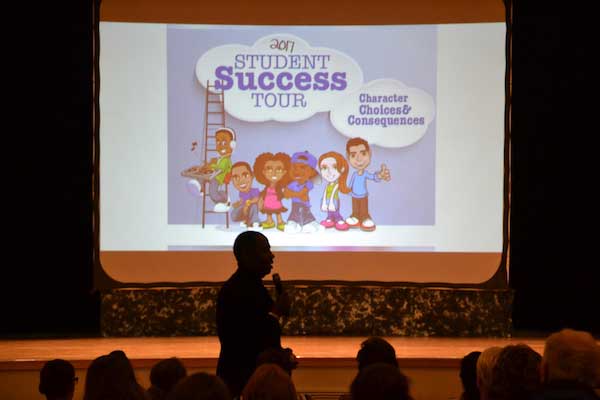 Brown spoke about the "Three B's" – Breathe, Believe in Yourself, and Bounce Back.
He urged people to take a breath when they are being challenged or in a struggle. He urged the group to being generous in praising others, to help people to believe in themselves.
Brown said resilience, the ability to bounce back, is a critical in overcoming challenges. He urges school districts and families to adopt a "growth mindset" and not a fixed mindset. A growth mindset focuses on hard work, discipline and overcoming challenges.
"Parents, it's OK to push our children," Brown said.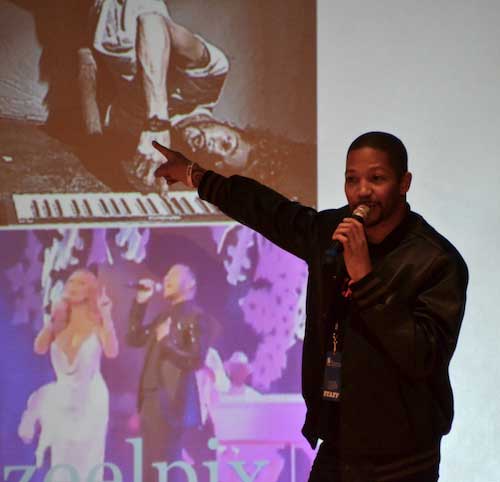 Brown's team on Tuesday included three other motivational speakers, including Jahzeel Mumford, a Top 10 pop star and an actor on Tyler Perry shows. One of the photos on the screen shows him singing with Mariah Carey, and also break dancing.
Mumford emphasized hard work, even as a young kid, is critical to success. He played the cello as a young boy, a time when he said it was far from cool. But that helped him develop his skills as a musician.
"Winners say 'try me' and not 'Why me?'" he said.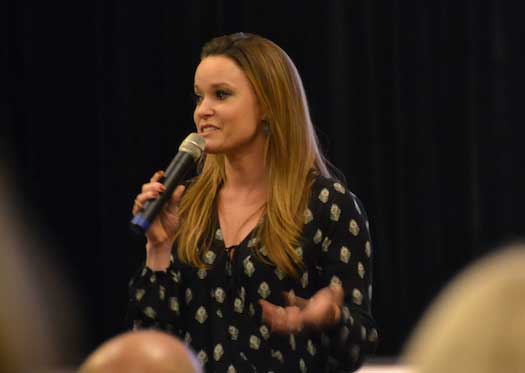 Meghan Shanley, an international Soul/R&B music recording artist and former Miss Virginia, urged the group to keep trying after an initial setback. It took her three tries to win the Miss Virginia pageant. That title paid for her college loans.
She lived in Nashville for 12 years as a musician before recently moving to Atlanta. She urged students and their parents to be open to new challenges and to not just do what's comfortable.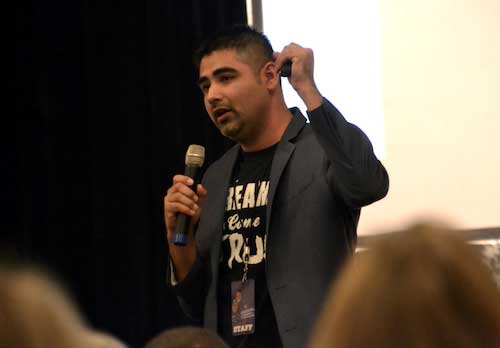 Javier Trejo is an educator, mentor, youth advocate and tech guru. He shared his story of coming to the United States as a boy from Mexico. He wanted to play basketball and worked hard at his skills, practicing with a hoop and backboard he paid for himself in his backyard. Trejo graduated and now is a big advocate for education.
He stressed putting in the hard work. Many people with lots of talent and resources don't have the dedication to hone their skills, he said.
"Every dream has a challenge," Trejo said. "You have to learn to walk before you can fly."