'Souper Bowl' at Holy Family Parish nets nearly $1,300 for OK Kitchen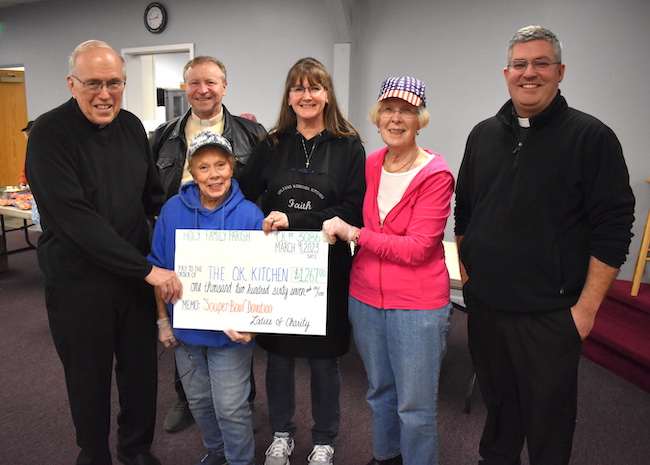 Photos by Tom Rivers
ALBION – Representatives from the Holy Family Parish in Albion today presented $1,267 to the Orleans Koinonia Kitchen at Harvest Christian Fellowship.
Holy Family did a collection on Super Bowl weekend, Feb. 11-12, and parishioners donated $1,267, about double what is normally given for the "Souper Bowl" collection. The parish in Albion does the collection for the kitchen each weekend during the Super Bowl because people tend to indulge in snacks and food during the big game.
Pictured from left include Father Dick Csizmar, Father Jan Trela, Agnes Piskorowski (holding the check), Faith Smith of the OK Kitchen, Carolyn Budynski, and Father Mark Noonan.
Trela and Noonan started on Wednesday as priests in a family of Catholic churches in Orleans County and eastern Niagara. Noonan was a seminarian in Albion in 2006 and served at St. Mark's in Kendall and St. Mary's in Holley for 7 ½ years until about five years ago.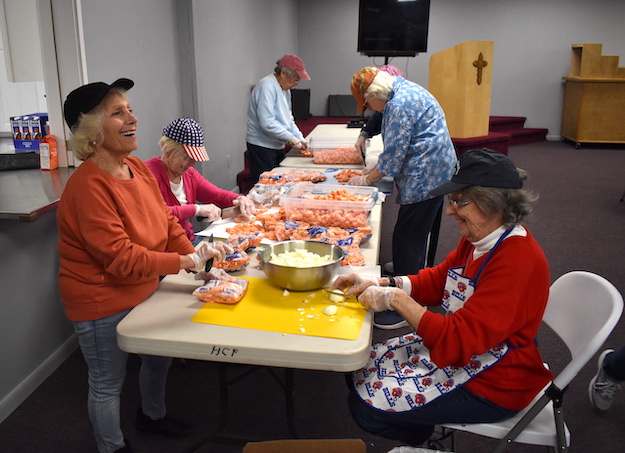 Volunteers from the Holy Family Parish in Albion are making beef stew for the OK Kitchen today. In front chopping carrots and onions include Gina Boothby at left and Elaine Kovaleski at right.