Soil & Water honors Neal family for conservation efforts at Albion dairy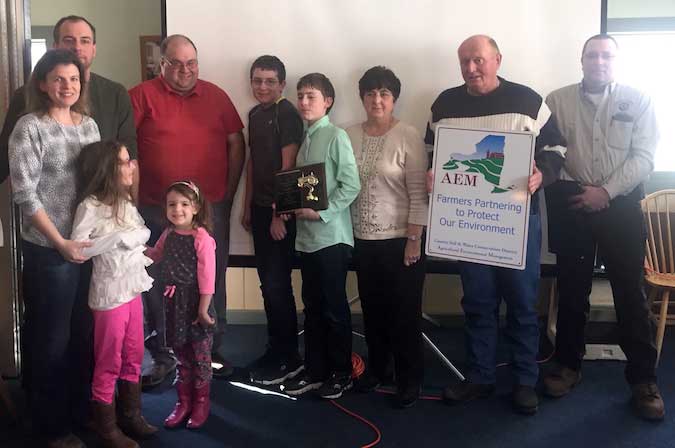 Provided photo
The Neal family, owners of Orleans Poverty Hill Farms in Albion, was named 2016 Conservation Farm of the Year by the Soil and Water Conservation District. The farm was honored on Friday during Soil and Water's annual meeting at Tillman's Village Inn.
Pictured from left include: Jody and Andrea Neal and their daughters Kasey and Adelyn, Jeremy Neal, Jody's sons Jayden and Zachary, Lillian and Ed Neal, and James Neal.
Soil and Water provided this write-up on the farm:
Franklyn Neal purchased the farm in 1956 which consisted of 90 acres of land and 16 cows. In January 1966, Franklyn's son Ed joined the operation and purchased a home which added 75 acres of land and the farm expanded to 55 cows.
James entered the operation in 1989, expanding to 85 cows and adding 120 acres to the farm. Jody came home in 1999 after graduating from Cornell and expanding the farm's cow numbers from 120 to today's 560.
In 2000 Jeremy joined the family farm after graduating from Alfred. Over the years Poverty Hill Farms has accumulated up to 1,000 acres of tillable land.
The Neal family plays an important part in Orleans County participating in 4-H programs, Farm Bureau and Cornell Cooperative Extension. James has also served on the Soil and Water Conservation District Board for 11 years as the Farm Bureau Representative.
Orleans Poverty Hill Farms has a long tradition of working with Orleans County Soil & Water Conservation District, Natural Resources Conservation Service (NRCS), Farm Service Agency, Cornell Cooperative Extension and area crop consultants to continue their stewardship of the land.
The farm has participated in the Agricultural Environmental Management (AEM) program and worked with Soil & Water and NRCS to adopt new and innovative farming practices that protect and improve their care of the land, as well as improve their bottom line profit. The farm is always in compliance with the CAFO (Concentrated Animal Feeding Operations) regulations and are judicious in their desire to conserve and maintain the land and environment.
Poverty Hill Farms uses farming practices to: 1) minimize soil erosion with installation of drainage tile, planting of cover crops, and cross-slope planting; 2) optimize soil health with scheduled soil testing as part of their nutrient management and residue management plans; and 3) reduce non-point source pollution by installing a manure and agricultural waste treatment system, a waste storage and transfer system, and a silage leachate control and treatment system. In addition, they have added buffer strips along streams and ditches and installed grassed waterways where feasible.
The farm participated with the NRCS Conservation Stewardship Program (CSP) from 2006-2013. The farm also participated in the NRCS Environmental Quality Incentives Program (EQIP) from 2002-2009 working on Residue Management, Nutrient Management, Pesticide Management and Filter Strips.
These practices, along with others that are planned, demonstrate the farm's excellent stewardship of the land and desire to protect our natural resources.