Sobieraski receives highest community award given to Rochester police officer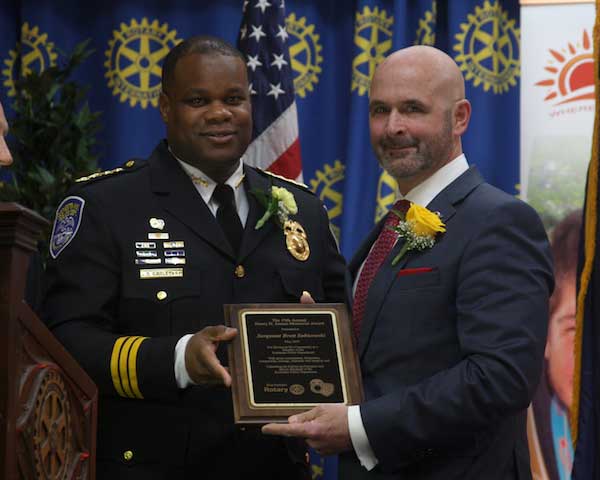 Photo courtesy of Tom Smith
ROCHESTER – Brett Sobieraski of Kent, a sergeant with the Rochester Police Department, today received the Rochester Rotary Club's Henry H. Jensen Memorial Award, the highest community award presented to a Rochester police officer.
Rochester Police Chief La'Ron Singletary, left, presents Sobieraski with the award at today's Rotary meeting in Rochester. The award is given to a member of Rochester Police Department for serving the community "with great commitment, distinction, compassion, courage, character and integrity, and for upholding the highest performance and ethical standards of the Rochester Police Department."
A Rochester police officer is nominated for the award by a member of the department, and those nominations are reviewed by the command staff. The Rotary Club presents the award during an annual luncheon.
Sobieraski started his career in Lockport and worked there for four years. He grew up in Lockport, where his late father John was a detective. Sobieraski joined the Rochester Police Department 26 years ago. He supervises the Greater Rochester Area Narcotics Enforcement Team and is a team leader on the SWAT Team. He is also an instructor at the Monroe County Law Enforcement Academy.
Sobieraski said he has attended the luncheon many times in the past and considered many previous winners to be his mentors.
"I was really humbled to be among so many role models of mine," he said tonight in an interview. "They aren't just great law enforcement officers, they are great humans."
Aside from his work in law enforcement, the Rotary Club cited Sobieraski's work in the community. He has raised over $80,000 for organizations such as the Veterans Outreach Center, New York State Olympics, The Mahoney Family (Former RPD Sergeant Bill Mahoney), Huntington disease, The All in All Time Foundation, The Rochester Police Foundation and other organizations. Sobieraski raises money and awareness through long-distance runs, races, polar plunges and many other endurance activities.
He recently started a non-profit organization called Limitless Racing. This organization gives children of special needs the opportunity to experience the thrill and accomplishment of distance racing.
Sobieraski also is seeking election to be the next Orleans County sheriff. He and Chris Bourke are on the ballot in a June 25 primary.