Snowfall is 2 feet and counting in parts of Orleans

Photos by Tom Rivers
The heavy snow and wind have reduced visibility in Orleans County today. This photo shows a person walking down West State Street near Main Street at about 11 a.m. today. The winter storm has made travel difficult.
Orleans County and Western New York are covered in snow, with Orleans getting the brunt of the storm.
The National Weather Service said snowfall counts range from 12.7 inches in Lyndonville (as of 9 a.m. today) to 23.5 inches in Holley (at 7 a.m.). Other Weather Service measurements in Orleans include 16.6 inches in Albion (by 6 a.m.) and 18.5 inches in Medina (by 6 a.m.)
Another 3 to 6 inches would fall today for Orleans County. A winter storm warning remains in effect until 8 p.m. today.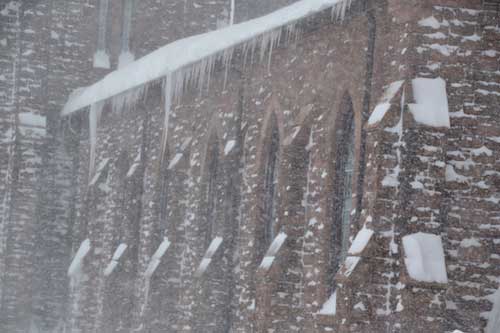 The First Presbyterian Church in Albion has been battered by the cold and snow.