Small class at Kendall ready to make big impact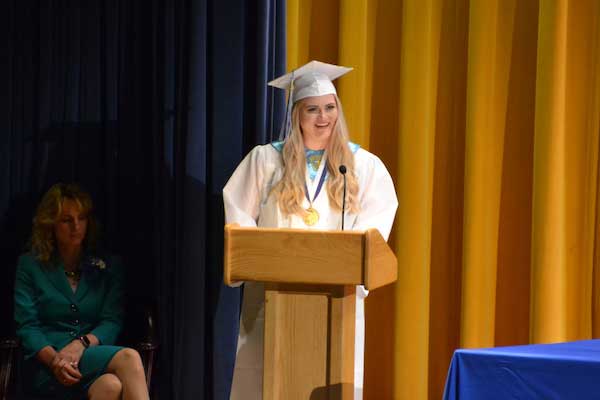 Photos by Tom Rivers
KENDALL – Anna Oakley, salutatorian for the Kendall's Class of 2019, speaks at commencement on Friday evening at the Kendall Junior-Senior High School.
This year's class has 41 students. That is a small group by size for Kendall. Oakley said the class has a strong bond and will leave a big imprint on the community and world.
She urged the students to push themselves and go outside their comfort zones. The world is melting pot, and Oakley urged her classmates to be open and accepting of others.
She will major in Integrative Neuroscience at Binghamton University.
The class sits on stage at the start of graduation.
Julie Christensen, the district superintendent, welcomed the community and graduates. She said the small-town roots for the class have given them a solid foundation as they begin the next stage of their lives.
The students have developed strong relationships with their classmates, staff and teachers. She said a small-school environment is an asset, fostering close relationships and confidence among the students.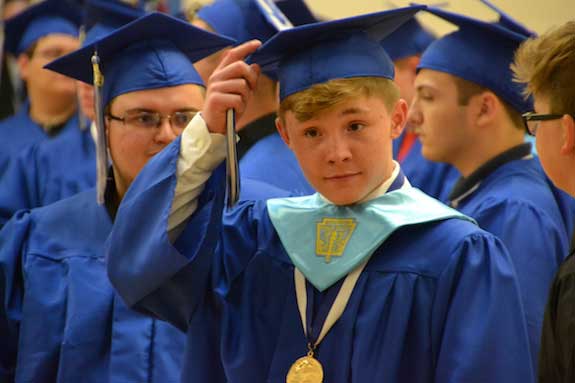 Matthew DiNatale and his classmates wait in the gym just before the start of the ceremony.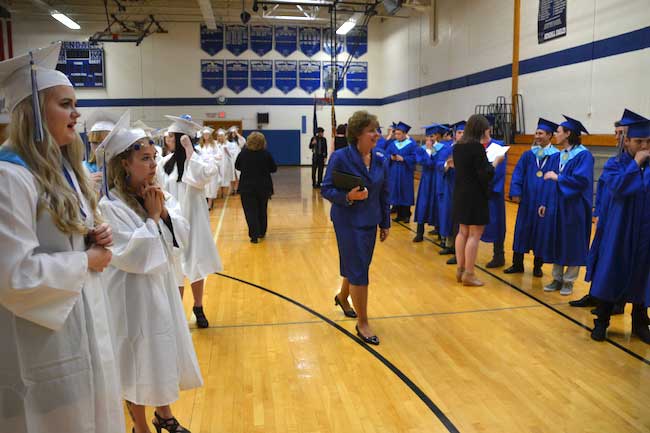 Carol D'Agostino, the high school principal, gives some last-second instructions to students before they head out of the gym.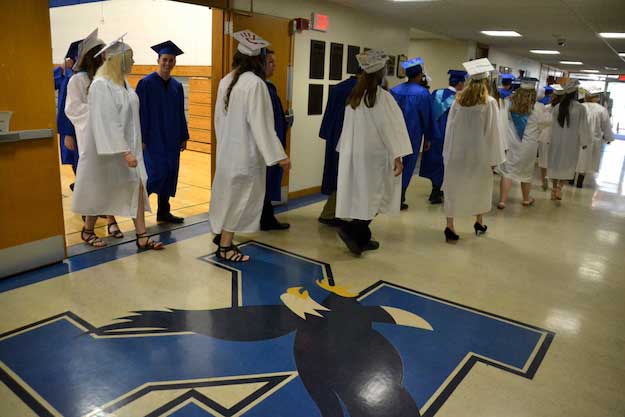 The class walks out of the gym and down the hall to the auditorium for commencement.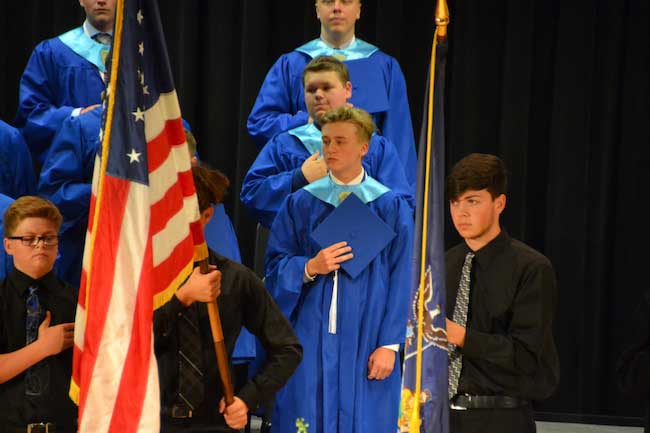 John Rath, center, is the class valedictorian. He has his cap off for the national anthem. Mason Kuhn carried the American flag while Brian Shaw holds the New York State flag. Those two are both headed to Boys State.
Rath said he feels fortunate to have attended Kendall. He said being on the soccer, basketball and baseball teams helped develop his leadership skills. He enjoyed the community spirit at the school, especially at homecoming.
"It is a small school and everyone knows everybody," he said before the ceremony.
He will be attending Oswego State College to major in Business Marketing.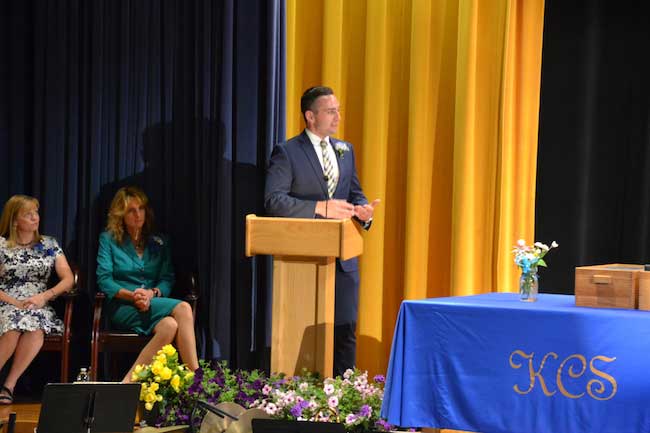 Tanner Jubenville, a Kendall grad and current reporter for 13 WHAM in Rochester, addressed the graduates. Nadine Hanlon, president of the Board of Education, is at far left, next to Julie Christensen, the district superintendent.
After Kendall, Jubenville graduated from St. Bonaventure University in 2015 with a degree in journalism and mass communications. He has worked in the news business for four years, the first two in Elmira and the last two in Rochester.
Jubenville was an announcer at sports games while at Kendall. He said he was scared when he was at his commencement from Kendall less than a decade ago.
His advice to the graduates was to follow the "three B's."
First, "be yourself," Jubenville said. When he was at Kendall, he weighed more than 300 pounds, and then added 30 more his first semester at St. Bonaventure. Jubenville then got serious about exercising, eating well and living a healthy lifestyle.
He loved St. Bonaventure but it took some time to fit in and make friends. He had to force himself to stay at the college initially when he was homesick. He developed many deep friendships with his classmates and professors at St. Bonaventure.
Second, he said to "Build your circle." Jubenville said people will only develop deep friendships by being a good friend to others.
"You get what you give," he said.
Third, "Bend but don't break." Jubenville said the news business can be difficult, with long hours and low pay, especially for people breaking into the profession.
When he was at Elmira for two years, he often felt alone and was consumed with the demands of the job. He is grateful for the opportunity to work in Rochester and be closer to family and friends.
He began his speech with a crisp 50-dollar-bill. He then crumpled it, but noted it hadn't lost its value.
"You will be tested at work, and with your friendships and relationships," Jubenville said. "Remember you can bend but don't break."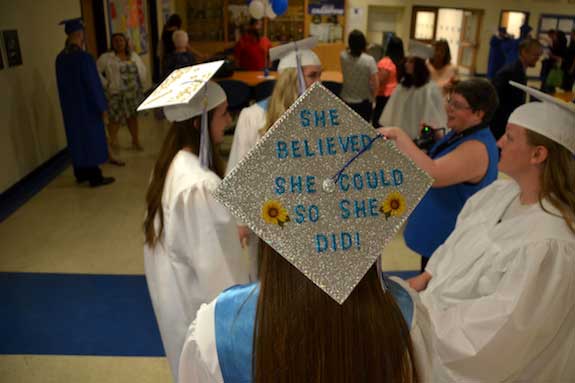 Jessica Coble has a message on her graduation cap, "She Believed She Could Do So She Did." She will study radiation therapy at Erie County Community College. She enjoyed going to Kendall.
"It has been a blast," she said. "You are so close with everybody."