Signs celebrate Albion High School seniors during tough time
'We want to send our seniors some love'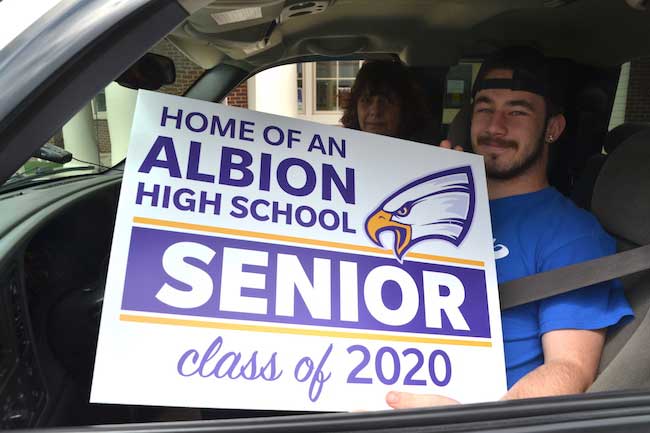 Photos by Tom Rivers
ALBION – James Denoncourt, an Albion High School senior, picks up a lawn sign that was distributed today outside Hoag Library. James is shown with his mother, Linda Yockel.
James and his classmates have been out of school since March 16. Gov. Andrew Cuomo today announced all public schools in the state will remain closed until at least May 15.
James said he misses seeing his friends at school. He has been looking forward to the baseball season, with the varsity team expected to compete for the league title and possibly advance deep into the playoffs.
James hopes students can return to school before the year ends, and he can end his senior year with the prom and graduation.
His mother appreciated the lawn sign, celebrating all the seniors in the Class of 2020.
"I think it's awesome," Yockel said. "They're doing something for seniors who have had so much taken away."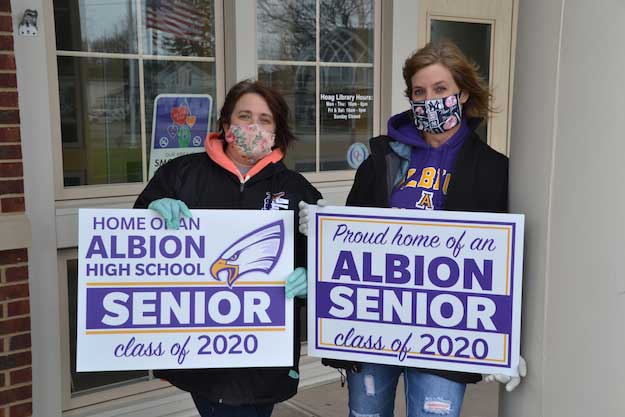 Kelly Ricker, left, and Kathy Harling passed out the signs today. They coordinated the efforts to have about 135 signs made for seniors.
They will be at the library again next Thursday from noon to 3 p.m. to pass put signs. Harling, president of the Board of Education, asked that parents or students send her an email at skharling@yahoo.com to request a sign.
The signs with the post were $12 each. They are all already paid for with the Albion Alumni Foundation covering half of the cost.
Harling's son Michael is a senior this year. Sidari's twins, Patrick and Laiken, also are in the Class of 2020.
"We are trying to make it a special time for them," Harling said about the seniors.
"We want to send our seniors some love," said Ricker, who is a lifeguard and assistant swimming coach at the district.
Some Albion community members also are encouraging people to participate in "Friday Night Lights" every Friday until the end of June. They are encouraged to turn on their porch lights in support of the Class of 2020.