Shoe Tree highlighted by Channel 7 as unique Orleans attraction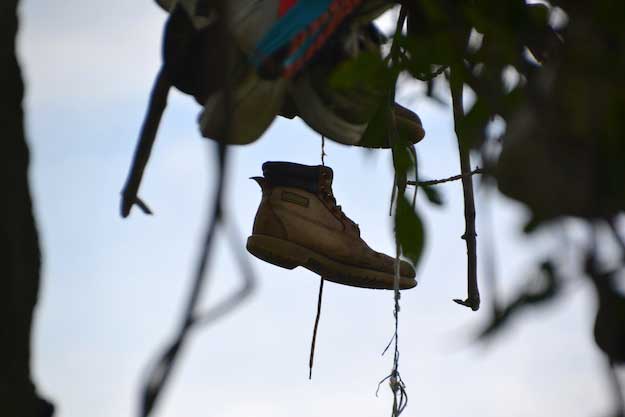 Photos by Tom Rivers
YATES – Channel 7 newsman Mike Randall was in Lyndonville recently for a feature on Lyndonville's Shoe Tree, a row of four ash trees that are loaded with shoes. People throw them high to hang from branches, or they nail them to the trees.
Randall told me he spotted the Shoe Tree on a camping trip to Golden Hill State Park, just across the Orleans County line in Barker.
Randall does many features for WKBW (Channel 7) in Buffalo. He likes whimsical stories in Western New York, and thought the Shoe Tree stood out as a peculiar countryside sensation.
He called me on Sept. 3, asking if I would go on camera to talk about the Shoe Tree. I gave him numbers of some local people who I thought could tell the tale.
Randall reached out to them, but no one was available or willing. After some arm-twisting and little time to prep, I headed to the corner of Foss and Lakeshore roads. I talked my daughter Lucy into joining me for the occasion. It was the last day of summer vacation and she seemed restless. She gets some air time on the segment when one of my wayward shoe tosses lands on her.
Courtesy of WKBW
I've done several stories on the Shoe Tree over the years, including when I was at The Daily News in Batavia. Earl Baun turned this into a craze in 1986 when he threw 8 to 10 pairs of shoes in the trees. He was cleaning out his girlfriend's closet and grabbed a pile of her shoes.
Many people say the Shoe Tree was a "thing" before that, with people heaving footwear high into the trees a decade or two before Baun did. However, people have told me Baun's exploits catapulted the site into a phenomenon.
Randall told me he's open to highlighting other peculiar spots in Orleans County. I suggested the five-seat outhouse at the Cobblestone Museum.