Sheriff's Office participating in No Empty Chair Campaign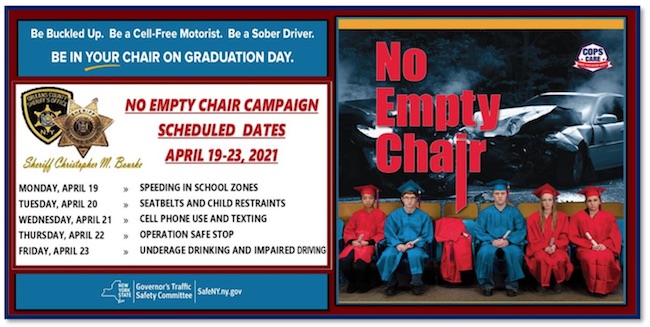 Press Release, Sheriff Chris Bourke
ALBION – Each year, the No Empty Chair Campaign runs near the high school prom and graduation time in an effort to encourage teen drivers stay safe on the highways and be in their chairs on graduation day.
According to the Institute for Traffic Safety Management and Research 2017 data, a total of 56% of passengers killed or injured in motor vehicle accidents occurred with drivers between the ages of 16-20.
In 2017 a total of 99 young driver fatal crashes occurred. Multiple contributing factors in the teen crashes included unsafe speed, following too closely, driver inattention/distraction, failure to yield right of way and underage drinking.
This year, the No Empty Chair Campaign runs from April 19-23. The Orleans County Sheriff's Deputies are joining forces with law enforcement throughout NY State to step up enforcement near area high schools, gearing extra attention for speeding in school zones, cell phone use, underage drinking and impaired driving along with promoting school bus safety.
The No Empty Chair Campaign is one of many statewide enforcement initiatives promoted by New York State and funded through the Governor's Traffic Safety Committee.