Sheriff's Office helps deliver Toys for Tots to Orleans County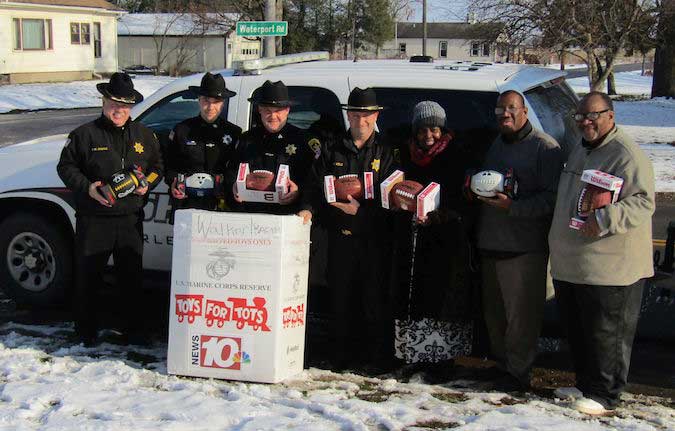 Provided photos
WATERPORT – The Orleans County Sheriff's Office assisted the Lord's House in Waterport with delivering toys last week to the church, where they were distributed to more than 40 families on Saturday. Pictured from left includes Undersheriff Christopher Bourke, Deputy Adam Hazel, Sgt. John Doyle, Chief Deputy Mike Mele, Lord's House First Lady Rose English, Rev. Eddie English (Lord's House pastor) and Rev. William Morrell Washington, Rose's sister and pastor of the Royal Church of God in Christ in Carlton.
The Lord's House has distributed Toys for Tots since 2008. The toys used to be delivered to the church by Toys for Tots. This time the church needed to go to Rochester to collect the gifts.
The church asked the Sheriff's Office to see if it would help get the toys and bring them to the church.
The church sent a Tahoe and a 14-foot-long trailer to collect the toys, which are going to more than 100 children in more than 40 families in Orleans County.
"I was so happy that they reached out," said Sheriff Randy Bower. "It's for the kids so it was an easy one for me."
Rose English, first lady of the church, said there were sign-ups at the church and at Hoag Library for families to be included in Toys for Tots. There aren't income cutoffs for the program.
"Just because you have an income doesn't mean you can afford things," she said today.
The number of people in the county participating in Toys for Tots has been growing over the years, she said.
She thanked the Sheriff's Office for assisting with the pickup last week.