Sheriff urges residents to consider taking civil service test to be deputy, police officer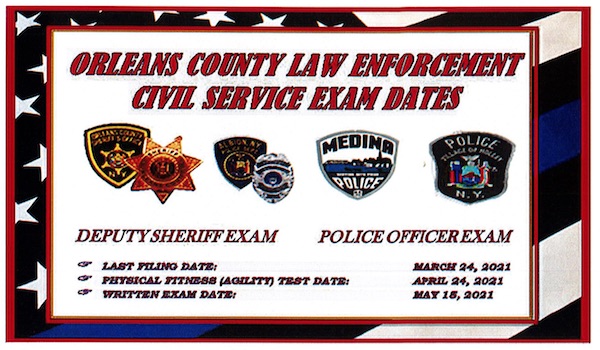 Press Release, Orleans County Sheriff Chris Bourke
ALBION – Orleans County Sheriff Chris Bourke is announcing the upcoming civil service exams for both deputy sheriff and police officer for the villages of Albion, Holley and Medina.
Candidates must be legal residents of Orleans County for at least one month immediately preceding the date of the written test.
The last filing date for the exam is March 24 with the physical fitness (agility) test on April 24 followed by the written exam on May 15.
Applications, qualifications and additional information may be obtained through this link (click here) or contact Kate Harvey, the Orleans County director of personnel and self insurance, at (585) 589-3184.
Orleans County is an equal opportunity employer.