Sheriff donates $1,000 towards transportation for Arc self advocates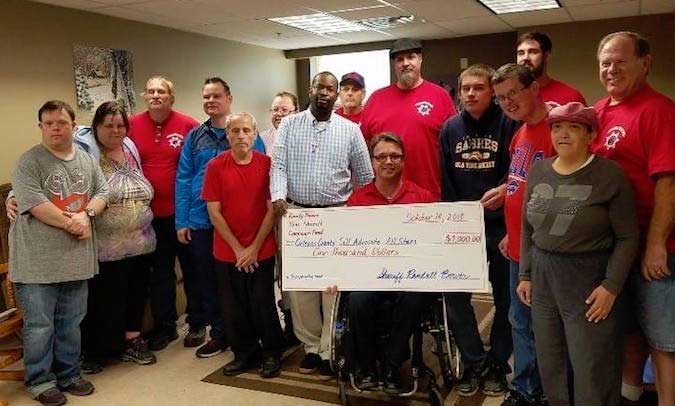 Provided photo
Sheriff Randy Bower donated $1,000 on Sunday to the Self Advocate All Stars in Orleans County. The group includes people served by the Arc of Genesee Orleans.
Bower held a fundraiser on Aug. 22 at Hickory Ridge Golf Course in Holley. Several musicians performed for the Sheriff's Posse All-Star Band, incuding The Who Dats & Triple Play Band, Trellis Cooper, Kevin Colonna, Gary Withey, Gary & Ronda Smith, Russ Peters, John Braun, Gwen Ferchen and Greg Martillotta.
Bower said transportation has been a challenge for the Self Advocate All Stars, especially on weekends and on off hours outside the regular schedule of RTS Orleans. The $1,000 can be used to hire a local taxi or other transportation providers.
Bower made the donation on Sunday to the Self Advocate All Stars and was joined by many of the musicians at 16 E. Bank St., the former grammar school now used as senior apartments and for Meals on Wheels/Nutrifare,