Shelby Volunteer Fire Company installs leaders for new year
SHELBY – The Shelby Volunteer Fire Company welcomed members and guests to their banquet Saturday night at the Shelby Fire Hall.
Master of ceremonies Dale Watts introduced special guests, which included members of area fire companies, Orleans County Emergency Management Coordinator Dale Banker and his wife Eileen; Sheriff Chris Bourke and wife Suzanne; Andrew Pilecki, director of the Firemen's Association of the State of New York and his wife; State Senator Rob Ortt and his wife Meghan; Assemblyman Mike Norris; and town of Shelby officials.
Stefano Napolitano, Deputy State Fire Administrator, administered the oath of office to 2022 Shelby firefighters. Executive board officers are president, Tim Petry; vice president, John Palmer; treasurer, Kirk Myhill; secretary, Tiffany Petry; sergeant-at-arms, Dale Watts; chaplain, Karl Haist Jr.; assistant chaplain, Phil Keppler; and steward, Dawn Petry.
Trustees are Joe Kyle, three years; Gary Lamar, two years; and Andy Benz, one year.
Firematic officers are chief, Jason Watts; deputy chief, David Moden; assistant chief, Scott Petry; firematic captain, Zach Petry; firematic lieutenant, Crystal Luckman; and EMS captain, Tiffany Petry.
New officers of the Ladies Auxiliary were installed by Town Justice Dawn Keppler. They are president, Elaine Watts; vice president, Patricia Fuller; secretary, Robin Watts; treasurer, Lori Myhill; chaplain, Marion Fry; three-year trustee, Mary Herbert; two year trustee, Kali James; and one-year trustee, Delores Wolters.
Tim Petry led off the awards program by naming David Moden as recipient of his President's Award.
"I could have chosen many people for this award, including Howard Watts and David Moden," Petry said. "Many of them helped at our events, but the individual I chose has helped me and the entire fire company in many ways."
Jason Watts named Tiffany Petry "Firefighter of the Year." She received her own flashlight and will receive a wooden plaque with her name on it when it arrives.
Watts commended many people who helped the fire company achieve its goals in 2021, including the major purchase of the department's first ladder truck.
"I never through I would see that happen," Watts said.
Those responsible included Jeff Lyons, Tiffany Petry and Gary Lamar. Other accomplishments were the purchase of an autopulse (CPR) device and replacing 1,800 feet of hose, purchase of eight sets of turnout gear with a grant from the Gary Sinese Foundation; acquiring grain bin rescue equipment and rope rescue equipment.
He said the fire department fell five short of reaching an unprecedented 300 calls for the year. He praised firefighters who completed various training courses and recognized Scott and Zach Petry for taking care of the apparatus. He said Crystal Luckman, a firematic lieutenant, kept them on track.
Because of Covid, a banquet was not held last year, but they would have recognized Rob Schaal as Fireman of the Year. His award was presented Saturday night, although he was not in attendance to receive it.
Pat Fuller, past president of the Ladies Auxiliary, said they are looking forward to 2022. She said the Auxiliary welcomed five new members during the year. She presented awards to Elaine Watts, vice president and purchasing agent; and Marion Fry, who worked on many committees.
Three outgoing officers were recognized – Jim Wade, trustee; Jeff Lyons, EMS captain; and Lee Hellert who passed away in 2021.
Two individuals were honored as Friends of the Fire Company. Kevin Bogan with Bogan and Tuttle Funeral Home was recognized for supporting the fire company by paying for tickets for all their events. Erving Stauffer, who owns Lakeview Storage Sheds in Lyndonville, was recognized for always being ready to do any projects the fire company needs done and for giving them a break on the price of a shed they are raffling off. The drawing for the shed will be on Mother's Day and tickets can be purchased from firefighters any Tuesday they are at the fire hall or by calling Petry at (585) 590-6713.
Two members received special recognition for 50 years as a firefighter. Joe Lewandowski, who was not in attendance, and Gary Lamar received a plaque and citations from Senator Rob Ortt, Assemblyman Mike Norris, Legislator Bill Eick on behalf of the Orleans County legislature, Steve Seitz on behalf of the town of Shelby and Andrew Pilecki from FASNY.
Lamar said he started as a firefighter in his teens at Lewiston II, then moved to Sanborn. When he moved to Medina, he attempted to join the Medina Fire Department, but they weren't accepting call men at the time. When someone suggested he join Shelby, he said he didn't even know where Shelby was.
Petry announced he had one more presentation for Lamar and called his family to the front of the room, where he was given a wooden flag bearing the insignia for Lewiston, Sanborn and Shelby.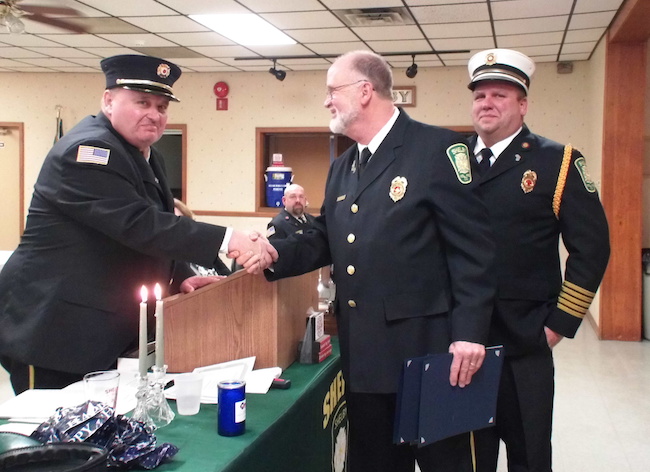 Tim Petry, president of Shelby Fire Company, congratulates Gary Lamar for 50 years of membership in the fire company. Looking on is Fire Chief Jason Watts.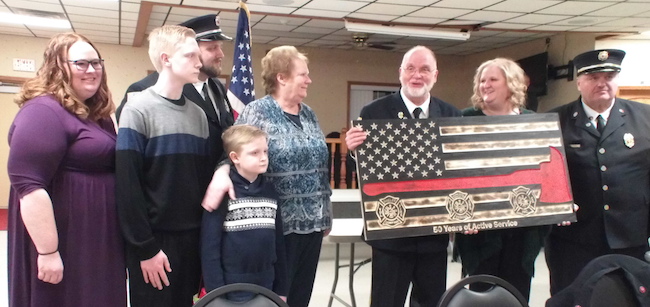 The family of Gary Lamar pose with him and the plaque he received for 50 years as a firefighter at the Shelby Fire Company banquet Saturday night. From left are daughter-in-law Olivia Lamar, son Mike Lamar(in back), grandsons Nicholas and Benjamin Lamar, wife Pam Lamar, Gary, daughter Melissa and fire company president Tim Petry.