Sharon Kerridge, a pioneer in online genealogy research, helped build Orleans County GenWeb site
By Catherine Cooper, Orleans County Historian
Illuminating Orleans – Vol. 2, No. 31
Sharon Kerridge, who was recognized as a Legendary Local of Orleans County in 2011, passed away at her home in Ocala, Florida on July 14, 2022. The listing of Legendary Locals was compiled by Hollis Canham and Andrew Canham.
Though her name may be unfamiliar, Sharon was a true unsung heroine, a pioneer in the field of online genealogy research. She devoted countless hours behind the scenes to input, verify and organize cemetery listings for the Orleans County GenWeb site.
Sharon's interest in cemetery records began in the early 1990s, when she was assisting her sister, Donna, on a family research project which involved diligently deciphering headstones in the Town of Gaines and Town of Carlton cemeteries. Her interest coincided with the advent of online technology.
The USGenWeb project was established in 1996 by a group of genealogists who wished to provide free online resources for research. Online access to cemetery records and census information fueled a huge interest in family research.
The Orleans County GenWeb site went online in June 1997 and soon was the envy of many researchers from other areas who did not have access to such a resource. It was maintained by unheralded volunteers who worked tirelessly behind the scenes to input content and update information. Sharon was involved from the beginning and continued in her role as coordinator even after her move to Florida.
"In the early days, Sharon spent many hours photographing headstones," said her sister, Donna Miller Gordon. "She devoted countless hours to working on the website, it was her passion. She did not look for accolades or acknowledgement. She had a good heart and felt empathy for the families of those whose information she was entering, particularly for the families of those who died at a young age."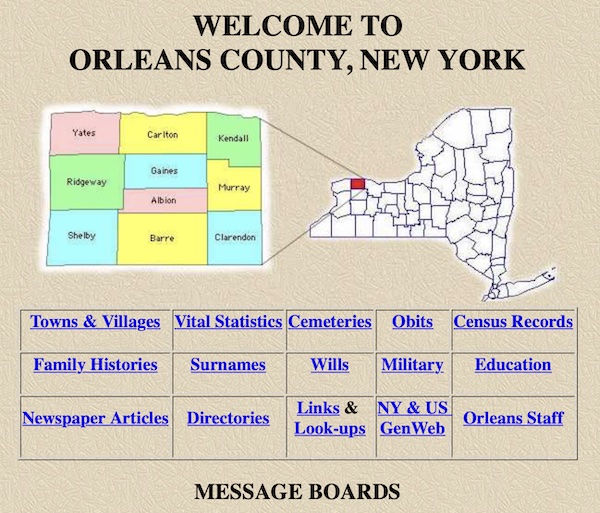 The homepage at www.orleans.nygenweb.net is familiar to any person who has searched for information on deceased Orleans County residents. It is a portal to an absolute treasure trove of information: census records from 1830 – 1930, military records, family histories.
It also provides access to cemetery listings for Orleans County cemeteries – pure gold for any family researcher. As an added bonus, the site does not require registration, login or passwords.
Using information supplied by cemetery staff and local funeral homes, Sharon continued to update the cemetery listings until shortly before her death. Colleague, Jim Friday, has indicated that the site will be continued. We very much hope so.