Several flu clinics being offered honor of Leon Sidari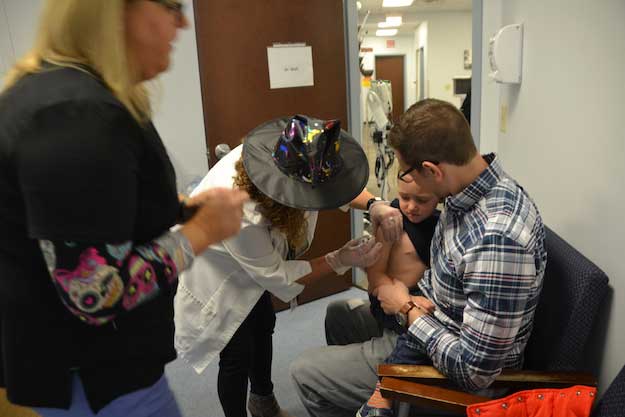 Photos by Tom Rivers
ALBION – Dr. Tony Sidari, right, holds his son Tristan, 3, while he gets his flu shot this morning from Rebecca Manella, a registered nurse at Orleans Community Health. Karrie Mikits, another RN, is helping with the shots during a flu clinic today at Orleans Community Health's Albion location at the corner of Butts Road and Route 31.
The shots were offered this morning from 9 to 11, and will again be available again from 1 to 3 p.m. today at the Albion healthcare site.
Today is one of the "Say Boo to the Flu" events in honor of Sidari's late son, Leon, who died from the flu on Christmas day in 2017.
At the time, the Sidari family was living in san Antonio where Tony and his wife Laura were both working as doctors. The couple grew up in Albion.
The family recently moved to Ithaca, where Laura's parents, Nathan and Gail Lyman, are located. Tony works as a rheumatologist and Laura is a psychiatrist.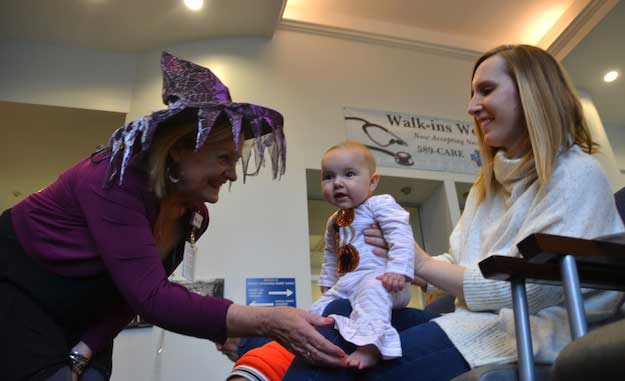 Cindy Perry meets Aria Sidari, 4 months, who is held by her mother Laura Sidari at Orleans Community Health in Albion this morning. Perry is the director of education, outreach and marketing at Community Partners, which is part of Orleans Community Health.
Perry and OCH are running a "Say Boo to the Flu" clinic in honor of Laura's son, Leon Sidari. The event includes funding from the Albion Rotary Club. The flu shots are covered by private insurance or through a child vaccination program.
The first clinic was last week at Holley Central School and 118 children received flu shots.
Last year there was the one "Say Boo to the Flu" event. This year is has expanded throughout the county by Orleans Community Health in partnership with Orleans County YMCA, Orleans County Health Department, Oak Orchard Health, Rotary and Middleport Family Health Center.
Other upcoming clinics include:
• Oct. 15, from 2:30 to 6 p.m. at Lyndonville Elementary School
• Oct. 16 from 3 to 6 p.m. at Kendall  Elementary School
• Oct. 17 from 4 to 6 p.m. at the Orleans County YMCA in Medina
• Oct. 19 from 11 a.m. to 2 p.m. at Oak Orchard Health, 301 West Ave., Albion
• Nov. 5 from 10 a.m. to 1 p.m. at Hoag Library in Albion